10 Reasons to Buy a Car with Online.cars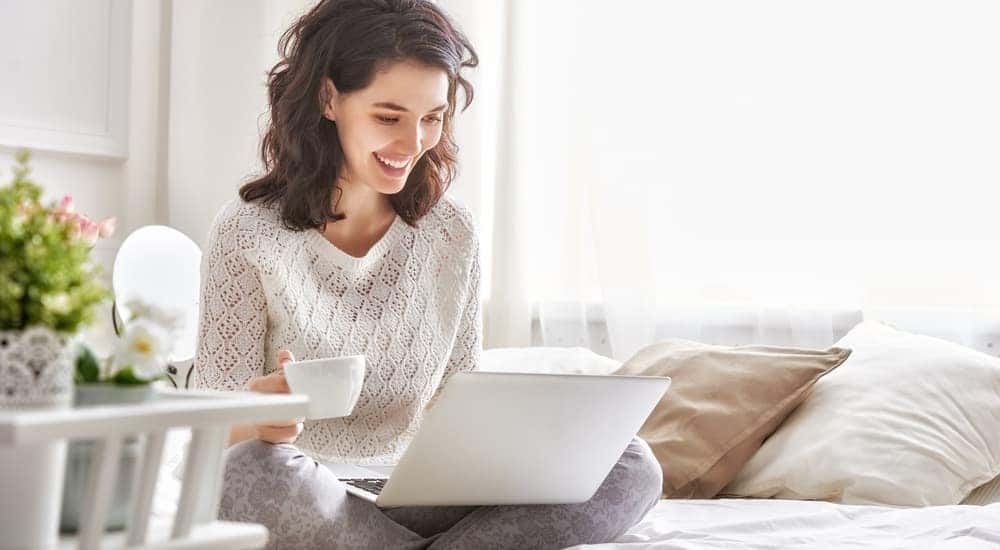 Buying a used car has never been easier in the new-age world of the internet. Now that customers can view cars online, you can complete the entire purchasing process without ever leaving your home. Online.cars is the best place to buy a used car, and this list will show you why. When you purchase a used car from our internet-based service model, one thing is for sure: convenience is the name of the game, and great service is the promise. If you haven't bought a car online yet, we hope this list will convince you to give it a try. It's time to buy used cars, Indianapolis!
#1: Free Delivery
Yes, you read that right: free delivery. Sounds impossible, right? Online.cars has made your convenience our business. Once you finalize your purchase, a logistics manager calls you to schedule the delivery within 24-48 hours of most purchases, depending on where you live. Need the car delivered to your place of work? You can do that, too. As long as the address of delivery is within 150 miles of our headquarters, your delivery is free. A small service charge is added for any miles outside the range, but the charge is minimal and will be discussed before delivery.
#2: Fair Return Policy
If you aren't completely satisfied with your vehicle, you have the option of returning it within three days or 300 miles from the date of the delivery. To make this even simpler, our team at online.cars will come pick up the car at no charge to you. All you need to do is contact the Vehicle Solution Specialist who assisted you with your sale, and online.cars will do the rest.
#3: Cars Inspected and Researched
Every vehicle sold through online.cars has gone through a rigorous process of research before being acquired for sale. Patented search software is used to filter out and remove any vehicles that experienced costly problems that may have been hidden by sellers. Any car having experienced serious accidents, odometer fraud, airbag deployment, or electrical issues will never make the cut, which means only one in about 700 cars ever makes it through the gauntlet of search data. Buyers will also receive a Carfax Guaranteed Clean Vehicle History Certificate with their purchase, protected by a Carfax buyback guarantee. The makes and models offered through our service covers a wide range of vehicles, and new vehicles are added daily. If you want a specific type of vehicle, we can probably find it for you.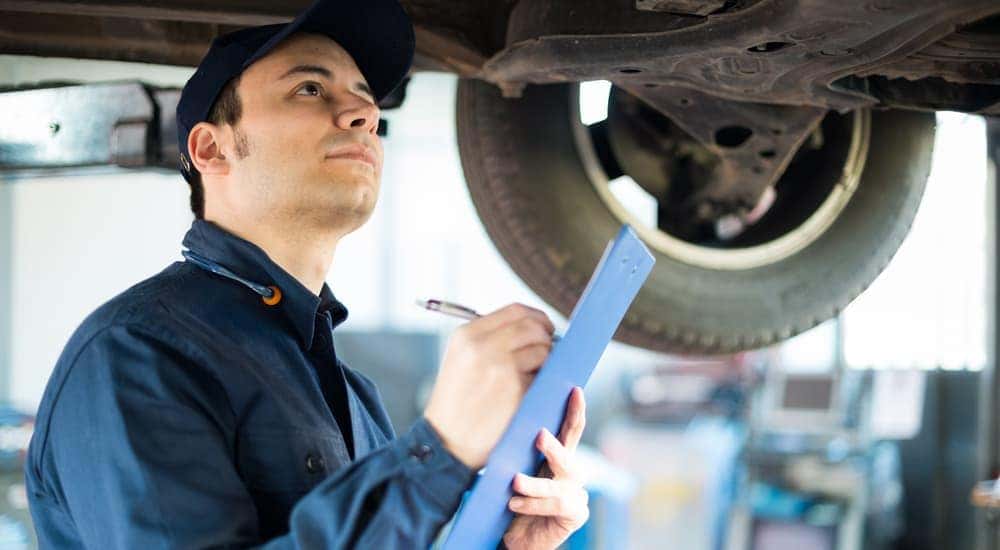 #4: Warranties
When you purchase through online.cars, you are provided with a fully insured Lifetime Mechanical Warranty at no cost to you, which is the same as if you purchased a vehicle through our friends at a McCluskey Chevrolet dealership. As long as you get your oil changed every 6,000 miles, this warranty applies for major mechanical issues. GAP coverage is also available, and is superior to most. If you would like to add on more extensive coverage, our specialists can discuss the best plan to suit your needs. Trained team members in the finance and insurance department can walk you through the entire process to make sure you get the coverage to put your mind at ease.
#5: Repairs and Service
McCluskey Chevrolet dealerships are outfitted with well-respected service departments in the area of delivery, where prices are fair, and service is convenient. If you don't live close to a dealership, Tire Discounters stores honor their partnership with McCluskey Chevrolet and will accept coupons or warranties which apply. Hours of our service departments are meant to make it easy for customers to be able to come in for service around their schedules, so expect to find our service hours amenable for your needs.
#6: Trade-In Any Car
Any car you want to trade in is eligible, even if it can't be driven. Whatever the condition of your car, we can offer you an appraisal quickly by having you fill out a form, take a few pictures, and then you will receive a "no-haggle" offer on your vehicle. If you agree to the price, we will pick up your trade-in when your purchase is delivered. Of course, your trade-in turns into equity toward your purchase, which can lower your monthly payment. In case your vehicle isn't driveable, we will locate a towing company to have your vehicle removed. Remember, you never have to go anywhere to complete any part of the purchase or trade-in process. This all takes place from the convenience of your computer or phone.
#7: Multiple Financing Options
Regardless of your credit score, we have relationships with over 40 lenders whose guidelines for lending cover the entire range of customer credit needs. All forms of payment are accepted, including money orders and cashier's checks, and our finance team specializes in finding the right lender for every customer. If you have a lender you prefer, you are welcome to utilize your own financing options, too. Customers with challenging credit scores may even discover their credit can be improved once they are approved for lending on a vehicle, once they have made six payments on time.
#8: Easy Transactions
Every purchase through us is assisted by a Vehicle Solution Specialist who helps customers choose the right vehicle they need, walks them through financing and purchasing questions, and answers any other questions they may have about the process. Through close attention to customer needs, every sale is given high-quality service. Other than paperwork to be signed on delivery, the entire interaction of purchasing your vehicle can take place online or over the phone. Customers will always receive top-notch service through our online platform, whether using the chat box, emailing, or calling.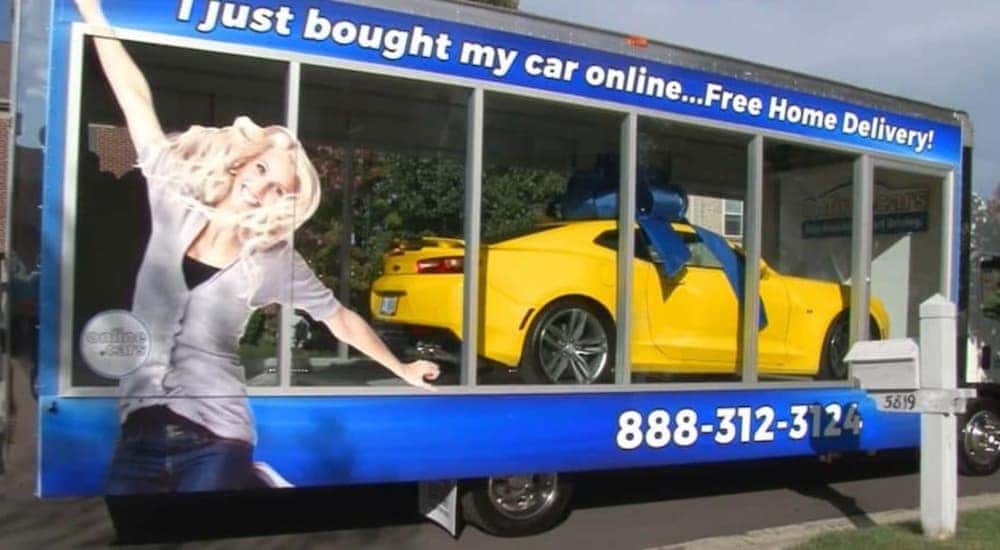 #9: Reliable Established Business
Online.cars is owned by McCluskey Chevrolet, which has been in business for 90 years. McCluskey Chevrolet is known for having the biggest Chevy dealer volume in all of Ohio, and confidently offers customers a nation-wide vehicle search. McCluskey Chevrolet is dedicated to excellent customer service, and will go the extra mile to make sure every customer drives away satisfied.
#10: Generous Gifts
As a way to thank customers, we offer buyers $100 in "M-bucks," which are rewards you can spend at any McCluskey Chevrolet or Tire Discounter location. M-bucks can be earned in a variety of ways, and can be spent on repairs, parts, and even toward a down-payment on another vehicle. If you refer a new customer to online.cars, you can receive $250 M-bucks. That means if you have repairs not covered by a warranty, you can pay for it with M-bucks!
We hope this list has given you motivation to consider buying through online.cars. Take the time to look through our extensive inventory to find the car you need, and when it rolls into your neighborhood in our patent-pending moving glass showroom you can prepare to be impressed. This is the future of car purchasing, and we are confident you will love the ease and convenience of buying your next used car with us. Remember, you won't pay for a delivery, and there won't be any hidden fees. Your next car is waiting for you. All you have to do is click!