4 Reasons Why Buying a Car Online Makes Sense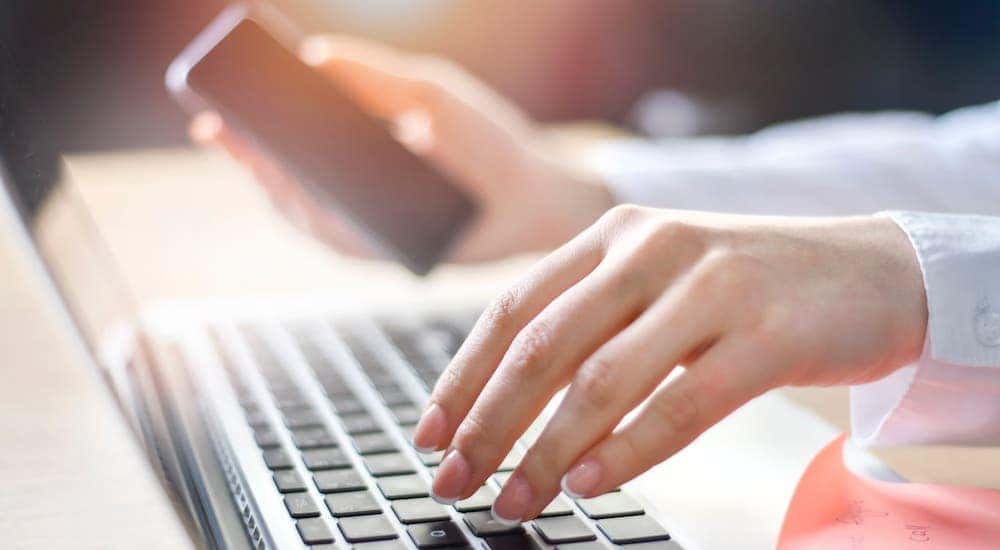 In today's convenience-obsessed economy, we're watching large industries be transformed by technology every day. Companies like Airbnb and Uber are redefining how we travel and get around town. No industry is immune to change, and the retail automotive industry is no exception because consumers will continue to demand more convenience and flexibility. It makes sense, but how exactly can car buying get easier? Well, what if we told you it already has? Introducing the online car dealership.
You've wanted a new car for a while now, but the thought of traipsing around town visiting dealer after dealer is keeping you from pulling the trigger. After all, it's a lot of effort and time. From the test drive to the negotiating and—most of all—the hassle of waiting on finance departments and test drives, in-person car buying can be a tiresome chore.
Unfortunately, we're all conditioned to accept this as another unpleasant reality over which we have no control. Anyone who has experienced the traditional car buying process almost never claims to enjoy it. Yet we have participated in this tedious process because, well, what choice did we have? Finally, the car industry has given us another option.
What is an online car dealership? It's just that: a virtual showroom that offers all the services of a traditional brick-and-mortar dealer with none of the struggles. Shop on your terms from the comfort of your home. Work with a sales professional online who will guide you through the process and relax at home on your sofa while the car is delivered right to your driveway. Sounds like a dream, right? Lucky for you, it's a reality. At Online.cars, we make it easy to find your dream vehicle without you having to deal with the hassle of a physical dealership.
We think online car buying is the best way to acquire a new vehicle, but don't take our word for it. Here are five simple reasons why you should buy your next car from an online car dealer like ours.
1. It's Convenient
Shopping for a car in your pajamas is indeed possible. When you take the online dealer route, you can wear anything you like! All you need is a computer and access to the internet. These days, it doesn't matter whether you're buying new or used––the premise is the same when you buy online. Shop, narrow, focus, decide, and purchase. The only difference is, with online car buying, you get to be wearing your slippers when you do.
With online car buying, you can shop 24/7. There are no showroom hours or appointments to consider. Take your time scrolling through inventory and comparing your options. Take an hour or a week or a whole month. You decide your own timing, and your online dealer will be standing by to support you whenever you're ready. You can chat with one of our sales specialists at any time who will answer your questions or provide suggestions if you find yourself undecided. Our online sales representatives take a consultative approach to supporting your purchase. It's a no-pressure process that runs on your time.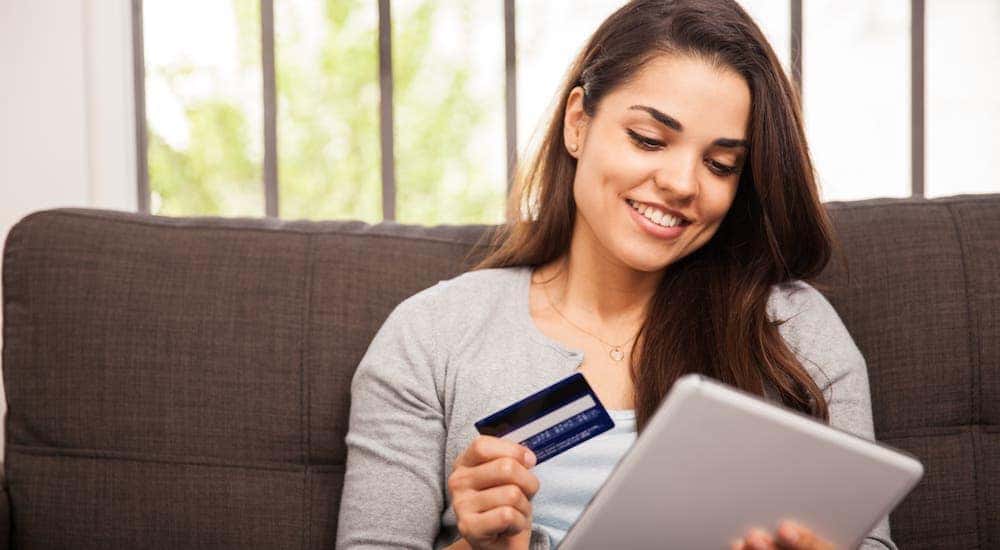 2. It's Efficient
Once you let go of the traditional rules for buying a car, you'll see there is a much easier way. Part of the hassle of buying a car is the many steps required. Usually there is a lot of waiting around and time wasted, which takes away from the excitement of your purchase and chips away at your free time. Buying a car almost always takes more time than we expect or plan for.
We believe car buying should not only be convenient but efficient as well. Why should it take hours and hours? Why are you required to sit endlessly in an office waiting for financing or paperwork? Instead, the process can unfold on your timeline. Once you've chosen your vehicle, it's a quick process to agree on a price and may involve a few emails, a chat, or maybe a phone call.
We also make it easy to shop by posting extensive photos and videos, along with 360-degree views of the exterior and interior of all the cars for sale. You'll feel like you're standing right next to the car rather than seeing it on your computer screen.
3. It's Easy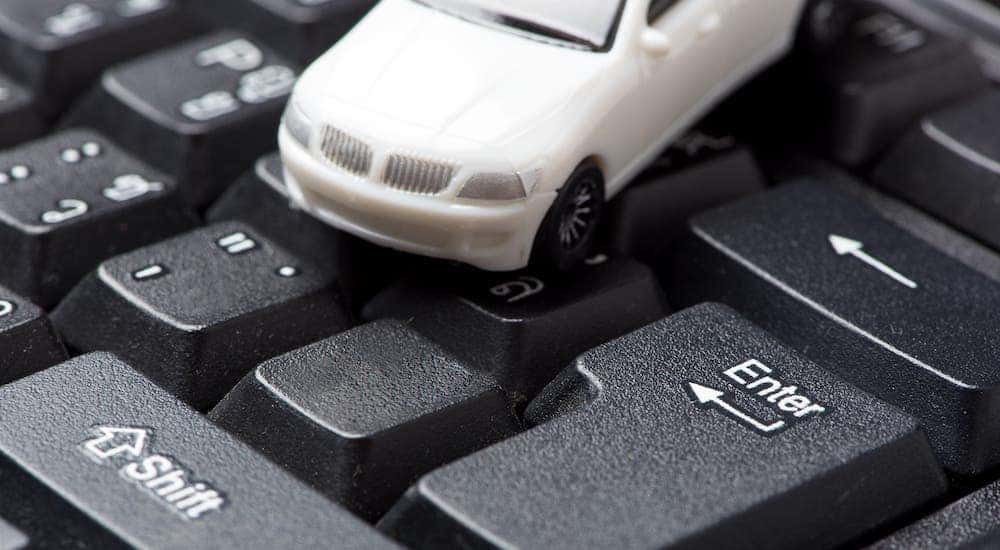 The hardest part of buying a car virtually is choosing the one you want! Once you've made that very difficult decision, the rest is a piece of cake, thanks to our team who work on your time and walk you through the process step-by-step so there are no questions or misunderstandings, and no confusion. We know that you've chosen this route because you prefer a hassle-free experience. Our team is trained to keep things simple and straightforward.
We talked about the hardest part. Now, what's the easiest part? How about having your new car delivered right to your doorstep? That's one of the biggest benefits of online car buying, and it's how we handle delivery. Your new vehicle will be delivered on a date and at a time that works best for you. Simply step outside, sign a few documents, and enjoy your new car! It couldn't be easier or more relaxing. These days home delivery of everything from groceries to prescriptions is becoming a lifestyle choice because of our busy schedules. Why shouldn't cars be delivered to your home too?
A lot of people ask what if I have a trade-in? That's easy too! Simply work with your salesperson to determine a fair trade-in value by submitting a condition form and then our team will pick up your trade when they bring you your new vehicle. Most online dealers take any vehicle––regardless of condition––as a trade. With the focus on simplicity, this is an area you don't have to think too much about or worry will be a struggle.
4. It's Fun
When you buy a car, it's sometimes hard to describe the process as 'fun.' This is due to the push-and-pull normally associated with the negotiation and financing, along with the massive time suck that car buying traditionally involves. When you remove the unpleasant parts of car buying, you're left with the rather pleasing reality that you're buying a new car! This is exciting, and the process should not detract from that excitement.
With an online car dealership, 99.9% of the negative aspects surrounding vehicle purchasing are removed (we'd say 100%, but unfortunately, the car isn't free quite yet!). No more lukewarm coffee in a cluttered office while you wait for your finance rate to be determined. No more haggling and waiting for an answer from the manager. Instead, you get to shop on your time and zero in on the exact car you want, then let your sales specialist handle the rest. Keep an eye out for communication and respond when needed, choose a delivery date, and you're done.
We remove the hassle, leaving just the pure fun and enjoyment. It's how car buying should be because then all you need to focus on is finding your dream car. A new car is a major purchase, and most of the time, we are excited to take possession of our new vehicle. It's the process in between that drags us down. Thankfully today's online car dealership removes the stress and leaves the delight. Once you receive your new vehicle, you'll be shouting from the rooftops to let everyone know that there is indeed a better way to buy your next car.