4 Steps to Finding Your Dream Car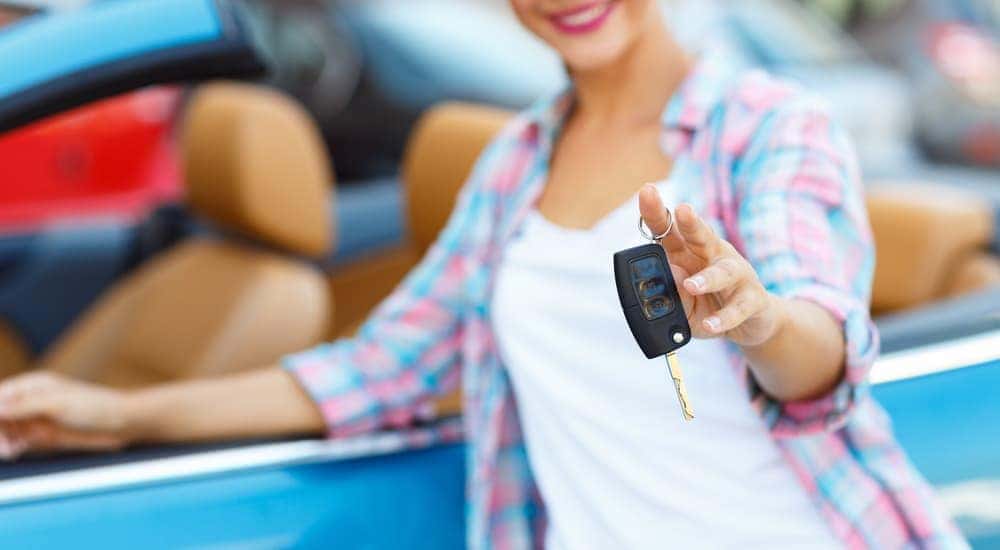 Finding the car of your dreams can be difficult – it takes a lot of work and patience, but the reward of driving the perfect vehicle is more than worth it. Before you start looking to buy used cars in your area, you should take a moment to consider the different ways you can go about it and make sure you have things figured out. The right steps beforehand can save you a lot of time and energy along the way while you are looking for your dream car.
It helps to consider all of your options and their individual benefits and drawbacks so that you can choose the right way to buy a vehicle. Then take some time to look at different models out there and compare them against each other, so you know exactly what meets your criteria as your dream car. Finally, take a look at our "Find My Dream Car" search tool to make finding the vehicle of your dreams easier than you ever thought possible.
Step 1: Consider Your Dealership Options
When it comes to buying used cars, a lot of people get frustrated because they're not sure where they should even start. You might think that you should start with what kind of vehicle you want – that works well for people buying new cars, but when you're trying to buy used cars, then it is often less helpful. In fact, the best place to start is by considering different dealership options and figuring out where you want to buy a used car, rather than what you want.
In the past, you really had two options: a local private seller or a used car dealership. Local sellers usually offer the best prices for used cars, but you get no real peace of mind there. If you buy the car and it breaks down a week later, there's really nothing you can do, and the seller is likely nowhere to be found.
Used car dealerships give you more peace of mind since there's a business that you bought the vehicle from, but you pay more at them. Some dealerships have also demonstrated less than honest practices when it comes to how they sell used cars. You're also limited by the inventory that a dealership has available when you go in to buy used cars from them.
These days, the internet has made shopping easier than ever before, and that extends to looking to buy used cars too. While you can use online resources to broaden your search of private sellers to a much larger market, at the end of the day, this still comes with a lot of the same drawbacks as local sellers. Online retailers, however, give you the peace of mind that comes from buying from a real dealership, combined with great prices and a massive inventory to offer you the best of other options. We might be a little biased in our preference, but that's only because we've seen how so many other used car sellers do it wrong and fail their customers.
Step 2: Determine Which Vehicle is Perfect for You
Once you have decided how you want to your buy used car, then it's time to figure out what vehicle is best for your needs. A salesperson can certainly help you with some of this, but it's usually best to figure out some things on your own first. There are a lot of resources out there to help you look at what different vehicles can do and compare your options, so don't feel overwhelmed about what's available to you.
First of all, decide if you want a car, truck, SUV, or a van. Cars are smaller than the other options, but usually, offer the best gas mileage and are a great choice if you need something to fit into a downsized lifestyle. Trucks are ideal for getting work done, as are vans, and are the preferred vehicles for a lot of trades workers and similar professionals. An SUV gives you a great combination of power and functionality, with plenty of interior space for passengers and/or cargo that you need to load up.
Once you know if you want to buy a used car, truck, SUV, or a van then you can start narrowing down your options even more. Cars come as either functional or luxurious four-door sedans or sporty or compact two-door coupes. SUVs and trucks are categorized based on size, so look for compact and small SUVs, as well as midsize and full-size SUVs and pickups. You can use these categories to then look at specific models from different manufacturers, to find the vehicle that is absolutely perfect for you.
Step 3: Use our Find My Dream Car Tool
Once you have one car picked out – or a few options that would be perfect – then it's time to find it. While you could spend a lot of time searching through listings online, we have made finding the car of your dreams easier than you can possibly imagine. With our patented Find My Dream Car tool, we let you tell us exactly what you are looking for, right down to the exterior color options. We then use our search software to look through a massive nationwide database of over 200,000 vehicles to find what you want.
All of our results have already eliminated any vehicles with past damage or accidents, so you don't have to worry about them not being in great condition. They all have a CARFAX guaranteed clean vehicle history report, so you know you are truly getting your dream car. There's no commitment from you, and you can provide us with as much information you want to to make sure we find exactly the right vehicle for you.
Best of all, if you use our Find My Dream Car tool and we can't find the vehicle you are looking for, then we'll give you a $200 American Express gift card. There's no catch here or other trickery – we're so sure of our system and the results it generates that we put our money where our mouth is. You risk nothing by trying our Find My Dream Car tool – all we need is some basic contact information so we can provide you with your results. It couldn't be any easier to buy a used car than with our software, and we have representatives available to answer any questions you may have and schedule a presentation as soon as you want.
Step 4: Enjoy the Car of Your Dreams!
Once you find your dream car, then there's only one thing left to do: enjoy it! Shopping for a vehicle can be a hassle, and there's often some stress and anxiety involved. We have done everything we can, to take all of that out of the equation and make the process as simple and streamlined as possible. While we can't remove all the stress from your life, the least we can do is give you the tools to make buying a used car easier.
Just remember that at the end of it all you get to drive the car of your dreams. If you spend a lot of time behind the wheel, then the right vehicle makes a huge difference in your overall quality of life. Let us help you Find Your Dream Car today and show you how easy it can be to shop for used cars online. All you have to lose is the stress of doing it the hard way.