Buying a Used Chevy Spark EV in Columbus for Cheap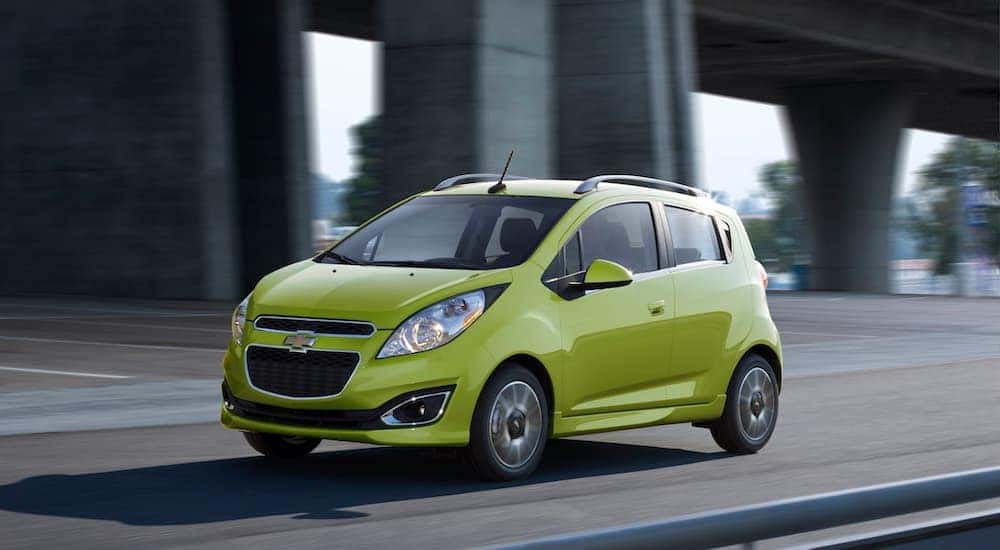 While electric cars have become increasingly popular due to increased volatility in the crude oil market, heightened environmental awareness, and more sleek designs, they are not new to the automobile industry. The first fully electric car was produced as early as 1898. Technology has advanced so significantly since then that many of the electric car models produced today are considered luxury vehicles and seem to only be affordable to those with deeper pockets. For those looking for a more affordable used Chevy near Columbus Ohio some electric cars can be purchased used at a deeply discounted rate. For example, you can purchase a used Chevy Spark EV in Columbus often for just under $15,000.
Although the Chevy Spark EV made its debut in 2012, it was quickly discontinued after the 2016 model due to sinking gas prices and easier access to lines of credit causing a lack of interest in more efficient electric models. However, as electric cars have become an icon of status and awareness of environmental impact has risen, the Chevy Spark EV is a quality option in the world of electric cars. It offers a modern design along with advanced technology options. Plus, since it is a discontinued model, the price tag is appealing to drivers with varying budget sizes. You can often find used Chevy models with very low mileage at extremely low prices. Additionally, since 2016 was not so very long ago, there may be some newer models available for a lower price that remain under warranty.
Why Electric?
Though gas prices are lower now than they have been in the past few years, people are still searching for more affordable options with the understanding that what is today may not be tomorrow. Electric is one way to lower fuel and energy costs. There is an abundance of fully electric and hybrid options available to car shoppers. While hybrids do lower fuel costs and offer improved efficiency, they cannot compete with the efficiency of a fully electric model.
Consumers may think they need to charge their electric car is inconvenient, but often, electric models can be charged right at home with a standard outlet. Although this can take a significant amount of time, most models can be charged overnight while you sleep and will be ready to drive by morning.
Standard Specifications of the Chevy Spark EV
The four-passenger, manual transmission Spark EV, which comes with several modern color options (like Electric Blue, Salsa, and Lime), is small but does offer a decent amount of cargo space for a subcompact car. Eleven cubic feet of storage behind the back seats can transform into almost 27 cubic feet of cargo space when the seats are folded down. At approximately 12 feet long and just over five feet wide and five feet tall, the Chevy Spark EV certainly doesn't stand out in a crowd, but what it lacks in headroom, it makes up for in enthusiasm. While you may not find the Chevy Spark EV comfortable for long distance travel, it does offer some convenience for a compact car when transferring larger items.
The technology that comes standard in the Chevy Spark EV is rather advanced, especially for an electric car of its time and price point. Not only does it have a seven-inch touch screen in the front console, but it is also outfitted with a rear camera, helping to keep drivers safe. This tech-savvy model is Wi-Fi enabled and can connect with any of your devices, as it is both CarPlay and Android capable. Additionally, the dash provides a real-time expected driving range based on driving style and conditions. Plus, it has two driving modes: the more efficient "normal" driving mode and a sport mode for those with a need for speed. It also has remote and push-button start, which is especially useful to have in areas with extreme temperatures. Say 'hello' to a nice, toasty car in the frigid Columbus winter.
Efficiency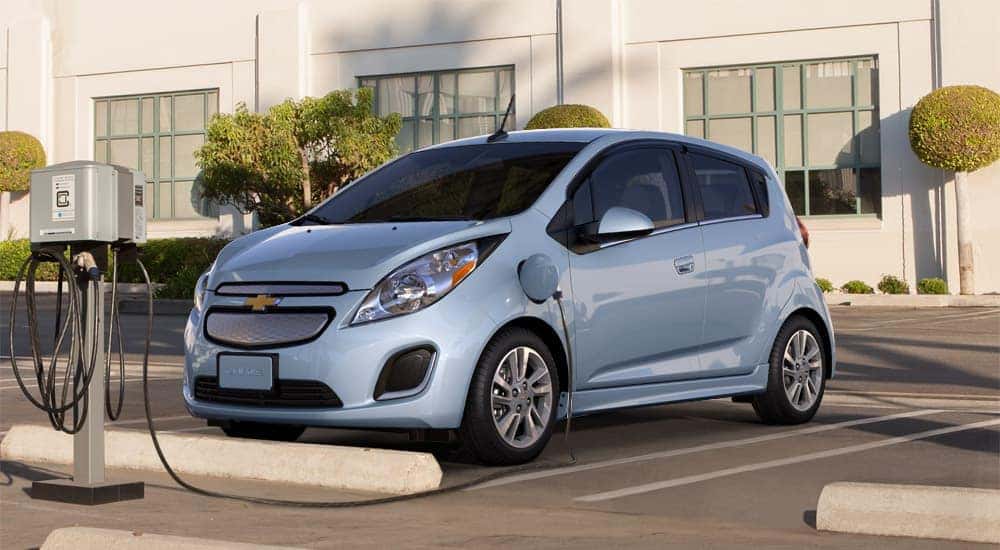 With a top speed of about 90 miles per hour, the Chevy Spark EV is not going to be winning any drag races anytime soon. It will, however, beat the pants off your average fuel-burning car in efficiency. The 2016 model was designed to be more aerodynamic. Therefore, the closed two-tier grille and roof-extending rear spoiler were created to reduce airflow and drag, making it even more efficient. The Spark EV averages 128 MPGe (miles per gallon gasoline equivalent) in the city and 109 MPGe on the highway. On the other hand, this is not a car you will use to take long road trips, as the battery only lasts about 82 miles before needing to recharge. This coupled with the size and comfort make it less than ideal for long distances.
Since the Chevy Spark EV is a fully electric car, the charging specifications are perhaps of the most interest to anyone looking to purchase an electric model. The lithium-ion battery pack, equipped with regenerative braking capability, connects to a charging station. The Spark EV is outfitted with a 110v onboard charger and charging cord which plugs into any household outlet. This option takes about 20 hours for the battery to be fully charged. It also has a 240v charging capability at a dedicated charging station, which brings charging time down to about seven hours. This, again, makes it a better option for city driving and short commutes.
Ratings
The 2016 model of the Chevy Spark EV was ranked a 3.9 out of 5 by experts. Experts liked the low-cost price of the all-electric driving experience. They were especially impressed with the modern technological features, as well as the improved, sleeker design of the 2016 model. Additionally, they were stunned by the swift acceleration. Zero to 60 mph in just over seven seconds, while by comparison is not a particularly quick acceleration time, is notable on an electric car of that caliber. While they did find the cost affordable, experts felt there were other subcompacts that were less expensive and larger subcompacts that had a price tag not much higher than the Chevy Spark EV. This criticism, of course, was in reference to a brand new vehicle. When considering a used Chevy Spark EV, or any other used Chevy vehicle, the cost comparison is significantly more favorable. Size and limited seating seemed to be the biggest drawbacks based on reports. Consumer ratings were much higher at 4.9 out of 5. Based on online reviews, consumers were pleased with the low maintenance, other than the standard vehicle maintenance schedule.
Pricing
When the Chevy Spark EV was first released, it had an MSRP (manufacturer's starting retail price) of just under $26,000. Chevy also offered an eight-year, 100,000-mile warranty. Now that the most recent model is a few years old, and has been discontinued, consumers can find used Chevy Spark EV models with low mileage for less than half the original sticker price. Plus, those newer models are still under the eight-year, 100,000-mile warranty, meaning that if there are any maintenance issues, they may be covered by Chevy free of charge. How's that for a deal?
Due to increasing popularity, electric cars are becoming more common, but many are attached to a hefty price tag. While the Chevy Spark EV may not be the current "designer" electric car, it is a quality option if you are looking to lower your environmental impact and maximize your efficiency. It's advanced technology and outstanding energy efficiency, partnered with the deeply discounted price of a used model, makes the Chevy Spark EV an excellent candidate in your search for the perfect used electric car in the Columbus area. Though it is not ideal for traveling long distances, as a go-to for every day commuting and errand running, it is a winner. Visit your local Columbus area Chevy dealer to test drive a used Chevy Spark EV today.