Find Your Dream Jeep Wrangler Online with online.cars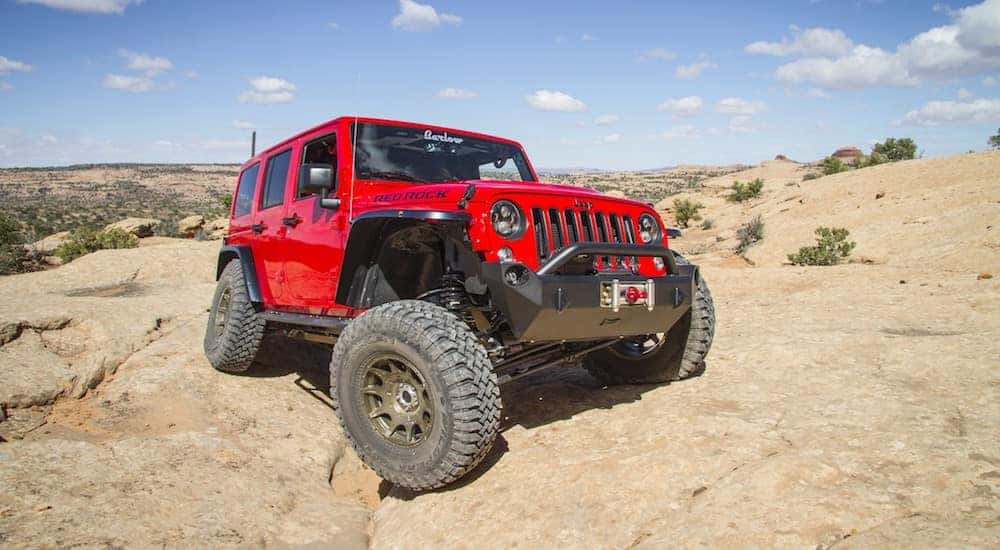 For most people, buying a new or used car is as simple as choosing a color they like and a body style that suits their needs. They don't care if the car is a Chevy or a Ford, as they are perfectly content with a model that fits into their budget and a general idea of what they want in a new vehicle. As easy as it may be for these individuals to find a car, the same cannot be said about you. You are unique, and therefore require a vehicle that is just as unique as your personality, lifestyle, and desires. While you aren't picky, per se, you aren't okay with settling for a car that meets your basic needs as a driver. Your dream car isn't a fuel-efficient Honda Civic, or an SUV with a high passenger capacity, it is a Jeep Wrangler. Unlike other Jeep buyers who are content purchasing a stock model of the off-road capable SUV, you desire a Wrangler that has it all. Professional modifications, enhanced off-road prowess, and an exterior appearance unlike any other Wrangler model on the road. Your list of must-haves for your dream Jeep Wrangler is endless and seemingly impossible to find.
Kings Chrysler Dodge Jeep Ram vs online.cars
When your dream Jeep Wrangler is this unique, you need a better way to find it than by simply visiting your local Jeep dealership. Kings Chrysler Dodge Jeep Ram may have plenty of great cars on their lot, but they don't have what you need. Their inventory is limited to the number of space on their lot, and that limitation is not what you need in your new vehicle search. Even after inquiring about your specific Wrangler needs, you were disappointed to find that the salesman was more interested in convincing you to buy another Wrangler model off the lot, rather than try and help you find your dream SUV. Unfortunately, this is a common practice in the traditional car dealership structure. Physical dealerships are unable to keep enough unique inventory options on hand to make financial sense, and instead, try to sell the cars that they do have available. While this is understandable from a business perspective, it can be a crushing disappointment to buyers who are seeking out the car they have always had their heart set on buying.
As you experience disappointment at one dealership after another, it can be easy to give up. Rather than throw in the towel, compare Kings Chrysler Dodge Jeep Ram vs online.cars find your dream Jeep Wrangler online with the power and help of online.cars.
Find a Jeep as Unique as You
Jeep brand models, especially the Wrangler, can be hard to find the exact configuration buyers want. With so many different special editions released each year, and multiple modification options available to increase off-road performance, it's no wonder why so many Wrangler buyers have difficulty finding their dream Jeep model. Just because you haven't been able to find your dream Wrangler yet, doesn't mean you should give up. Thousands of people are finding the elusive vehicle of their dreams with the help of online.cars.
online.cars is different than physical in-person dealerships, in that they are able to search through a virtual database of over 100,000 vehicles for sale, located at dealerships across the United States. This nationwide database means that buyers like you can locate and purchase the Jeep Wrangler you want, those in-person local dealerships haven't been able to provide. Whether the Jeep Wrangler you have your heart set on is brand new, or a used version that has been professionally fitted with a lift kit, off-road suspension, and other powerful parts and accessories, you will be able to find it via online.cars.
online.cars understands that buyers don't want to settle on a car just because it is capable of getting them from one destination to the next without fail. While some people are perfectly happy with a reliable car, regardless of what else it offers, other buyers want more. If you want more out of your next vehicle purchase, whether it is a Jeep Wrangler or another make and model, online.cars is the first and only place you need to go to find it.
Stop Searching, and Find Your Wrangler with online.cars
Not only can it be frustrating trying to find the Jeep Wrangler of your dreams, it can also be time-consuming. Who has time to go into one dealership after another, only to be disappointed by what is (or isn't) on the lots? The salesman who tries to change your mind about which Wrangler model you should buy adds to the frustration and steals away even more of your precious free time. Stop wasting your time on a tri-state wild goose chase for the Wrangler model you want, and instead head online. The online.cars process is easy, and incredibly fast to get started. Simply head to the online.cars website, and fill out a succinct form from the comfort of your home or office. Take all of the daydreams you have about your new Jeep Wrangler, and put them into words. Once you fill out the form on the online.cars website, a team member will reach out to you within a few days with three options to choose from. If you feel that one of the Wrangler models is what you have been looking for, online.cars will have it shipped to the Cincinnati area for you to check out in person, and take for a test drive.
There is no obligation to buy a vehicle from online.cars at any point in time, and you have the freedom to walk away, even after the car has shipped to the area. With absolutely nothing to lose, and your elusive Jeep Wrangler dream SUV to gain, why not take a shot and find your next vehicle with online.cars?
Local Cincinnati and tri-state car dealers may have good intentions, but they simply cannot offer the extensive selection and seemingly endless vehicle options available with the web-based online.cars service. Head online today, and find your dream car now, not years from now.