Finding the Best Value: Used Chevys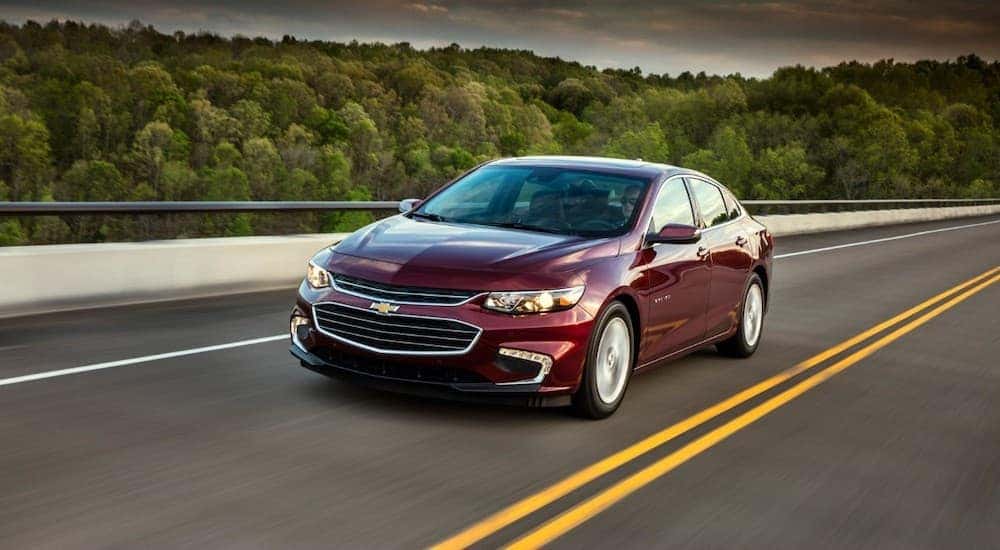 If you're looking for a used Chevy in Columbus, then we know just the place for you. At Online.cars we specialize in offering a wide selection of used Chevy vehicles at competitive prices. The best part is you can search through our whole inventory, using advanced filtering options, at just the click of a button. We think Chevrolet is one of the top brands out there and will provide you with the best value in a pre-owned vehicle.
Did you know the Chevrolet company is over 100 years old? That's right, back in the early 1900s, when the automotive industry was still in its infancy, Chevrolet was founded. Today, it's one of the most well-known car manufacturers in the entire world, especially in the United States. Vehicles like the Silverado, Equinox, Malibu, Tahoe, and all-new Blazer are popular choices amongst Chevy enthusiasts, although there are also familiar names like Corvette, Camaro, and Impala in the lineup.
Chevy Awards, 2013-2019
Since the company has been around for such a long time, it's safe to assume the people at Chevy have been doing something right over the years. And, it's no surprise that they've collected their fair share of awards for their continued progress and commitment to producing excellent vehicles.
Kelley Blue Book Awards
In 2017, the Silverado HD won Kelley Blue Book's (KBB) Best Resale Value Award (for full-size pickup). The Silverado HD is known for its tough and rugged demeanor, backed by its superb towing and hauling capabilities. It's a muscley machine that can get the job done, yet still provide enough luxury and convenience features on the inside that you wouldn't know you're in a work truck. And, apparently, it's such an in-demand vehicle that even years later its value remains high. The Silverado HD won the same award in 2019. It has also picked up multiple awards from J.D. Power and Associates, including Most Dependable Large Heavy Duty Pick Up (2016) and Highest Ranked Large Heavy Duty Pickup In Initial Quality (2019).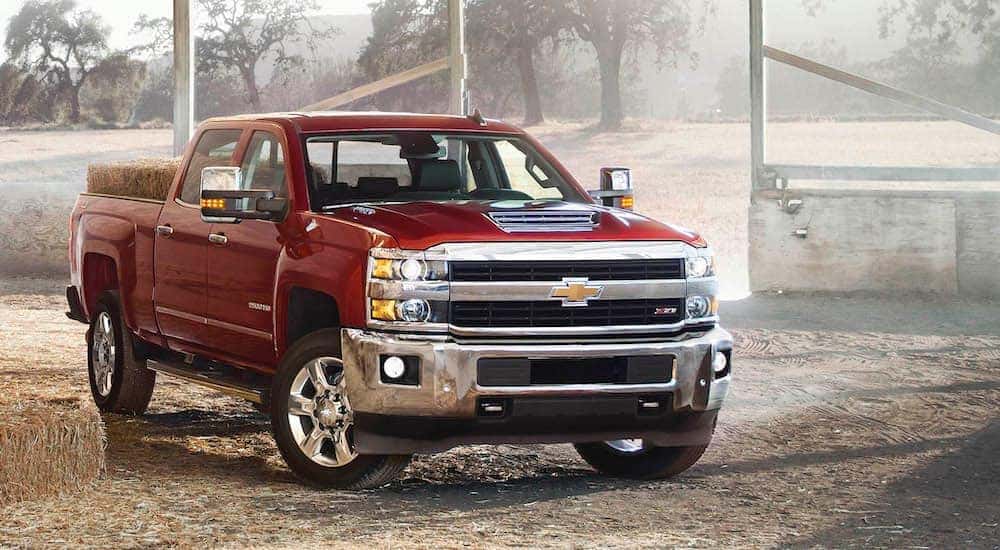 Edmund's Award
The Chevy Colorado was awarded the 2017 Edmunds Most Wanted Midsize Truck and the Popular Mechanics' Off-Road Truck Of The Year (2019, Colorado ZR2 Bison). The Colorado is one of the most popular midsize trucks in the nation, offering a lot of versatility and capability at lower price points than its full-size counterparts. It's a great option for people that aren't necessarily needing it for everyday work, but they still want a pickup that can function as a work vehicle when required. The rest of the time, the Colorado is great for going off on adventures with friends and family, whether it's off-road or not, towing dirt bikes or jet skis.
Another Kelley Blue Book Award for Chevy
The 2017 KBB Best Resale Value Award for Full-Size SUV/Crossover was given to the Chevy Suburban. The largest of all Chevy SUVs, the Suburban is basically a Tahoe, but bigger. If you've ever wanted to drive around a sleek SUV with the seating capacity and storage of a small bus, the Suburban might be for you. Newer models can fit up to nine passengers, so you can imagine how much cargo would fit in the back if you only had four or fewer passengers inside. The short answer would be, a lot. Plenty of space in this full-size SUV for a full-size family going on a road trip or a weekend adventure.
The Highly Awarded Chevy Tahoe
Let's not forget one of the most popular vehicles produced by Chevy — the Tahoe. The Tahoe is still a full-size SUV, but it's slightly smaller than the Suburban, and many people find the smaller size to be more attractive. We like them both, but we can definitely see where the Tahoe may have some advantages with its decreased dimensions. Not everyone will need all the space a Suburban provides, so a Tahoe would actually be a perfect fit for a lot of families. Judging by the number of awards the Tahoe receives, its popularity doesn't seem to be going down anytime soon. It won the Edmunds Buyers Most Wanted Large SUV Award in 2018 and 2019, it was the Highest Ranked Large SUV In Initial Quality (2019, J.D. Power and Associates), and was also named to KBB's list of Best Family Cars in 2017 and Best Full-size SUVs For Families in 2018.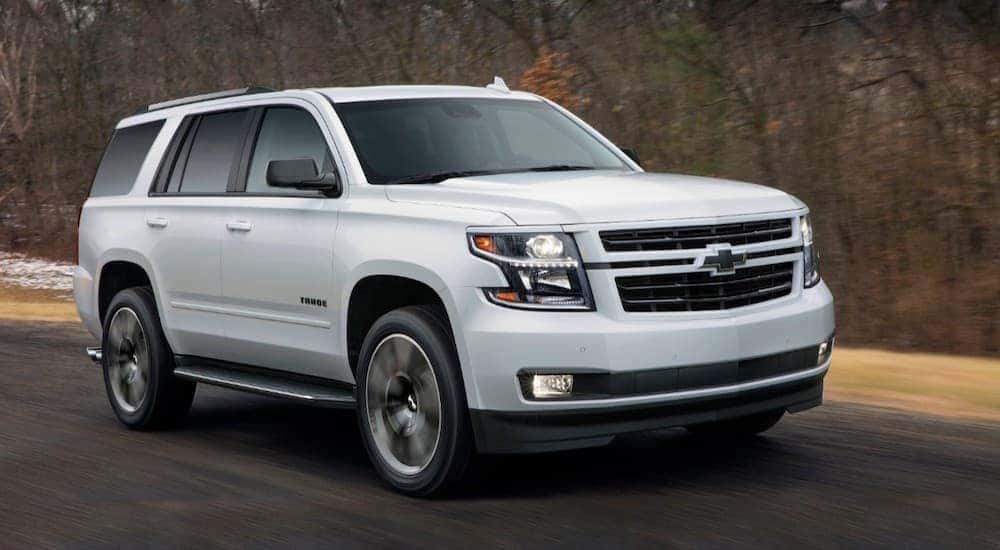 Safety Awards
Safety ratings are also important to Chevy, and they should be important to everyone. Although vehicles are fun to drive and a staple of American life, it's no joke getting into one and driving on the road. While a lot of accidents may be caused by the drivers themselves, the actual vehicle can help to mitigate the consequences or prevent the accident in the first place.
The National Highway Traffic Safety Administration (NHTSA) has the 5-Star Safety Ratings program to assess the overall safety of a vehicle concerning crash protection and rollover safety. Multiple scenarios are tested to provide a more complete picture for buyers. Chevy vehicles that received an NHTSA 5-Star Overall Vehicle Score in 2019 are the Traverse, Equinox, Trax, Impala, Camaro, Sonic, Bolt EV, and Volt. The 2018 recipients were the Equinox, Trax, Impala, Malibu, Cruze, Camaro, Sonic, Bolt EV, and Volt. It should be noted that the NHTSA does not test every single vehicle on the market, so if a vehicle doesn't show up one year with high marks, it also may not have been tested at all. However, if a vehicle is tested that year and receives the 5-star rating, you can be assured it has high safety standards.
The Traverse was also awarded high marks for Best 3-Row SUV For Families (U.S. News & World Report, 2018 and 2019). The Equinox, meanwhile, received the Most Dependable Compact SUV Award 2016 and was the Highest Ranked Compact SUV In Initial Quality 2019 (both from J.D. Power and Associates).
Value Comes With Time
This has by no means been an exhaustive list of every single award every Chevy vehicle has ever received, but the point was to show you how important it is for Chevy to put out high-quality vehicles that people want to drive. There are indeed more vehicles and more awards, but we think you get the picture by now. Chevrolet has been around a long time, and they produce good vehicles.
It's no wonder then why we back used Chevy vehicles. It's because they have the best value. From the Suburban to the Tahoe to the Silverado and the Malibu, the lineup is huge, and each vehicle has its own unique qualities. They all have the same bowtie badge on the front, though, which means they come from a manufacturer that puts safety and reliability at the top of its priorities.
At Online.cars, we know the pre-owned market can be difficult to explore at times. That's why we aim to provide the best and most efficient experience for all prospective buyers of used cars. Columbus is a hotbed of car activity, but we want your process to be as smooth and easy as possible. We offer free delivery of your vehicle anywhere within a 150-mile radius of our headquarters in Loveland, Ohio. Of course, that is well within the range of Columbus and nearby areas. For common FAQs and to browse our extensive vehicle listings, check out our website today. As always, please reach out to us if you have any questions whatsoever. We appreciate your time, and look forward to hearing from you!