Get Behind the Driver's Seat of Your Car Buying Journey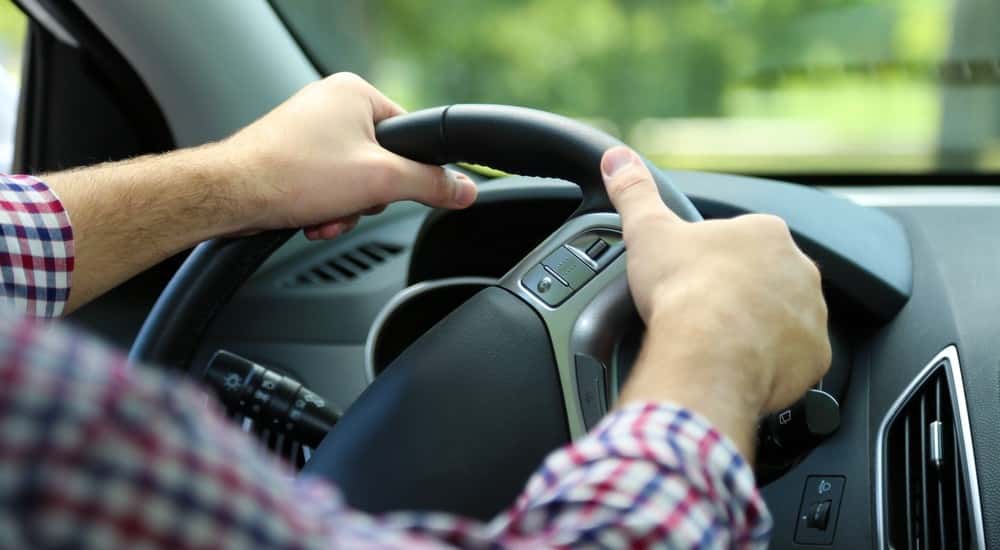 When you set out on your next car buying journey, don't you want to be in control of what happens? The answer to this question is likely a resounding YES, but it is surprising how many people feel out of control when it comes to what happens during their new car transaction. Unfortunately, the traditional dealership experience leaves a lot of car shoppers feeling uneasy, unsure, and frazzled. Rather than feel like the white-washed walls inside of a dealer showroom are closing in on you, why not take back control? When you discover the difference between an in-person dealership like Kings Honda, vs. online.cars, you will never look back.
Be in Control of YOUR Car Buying Experience
You don't have to go far, or try very hard, to find a person who was taken advantage of at an in-person car dealership. Whether it happened at a local Cincinnati dealership like Kings Honda, or at a car dealer somewhere else in the tri-city area, car shoppers are simply fed up.
Rather than remain neutral or complacent, take control of your car buying experience with the power of online.cars. A completely virtual online dealership experience that puts you, the car shopper, back behind the wheel of your new or used vehicle purchase. In an industry that leaves the majority of buyers feeling completely out of control, online.cars provides a way for car shoppers to harness the power of the Internet, and create a car buying process that leaves them in complete and total control.
3 Ways Dealerships Have Failed Car Buyers
Whether or not you have had a negative experience with a traditional car dealership, chances are, you know someone who has. The in-person dealership experience is outdated, archaic, and takes advantage of inexperienced buyers who don't know what to expect. More and more buyers are searching for a new way to buy a new or used car for this very reason, and we can't say we blame them. Check out the top three ways in-person car dealerships have failed well-meaning buyers, and why a solution like online.cars is not only needed – but necessary.
They Make Car Buying a Game: While this may not be true of every car dealership, it has become the rule, more than the exception. As a consumer, you want to feel confident in making a new or used car purchase, and also respected through the process. Cars salesmen who get paid based on how many cars they sell, and how many upgrades they can convince the buyer to purchase, end up resorting to shady sales tactics in order to secure a larger paycheck. They play a "back and forth" game between themselves and the general manager, and use the car shopper as their pawn. Unfortunately, the only person who ends up winning this game, is the salesman, and ultimately, the dealership. By utilizing a web-based car dealer like online.cars, you eliminate the salesman, the manager, and the "game" they have all become so fond of. Car buying is not a game, but rather a very serious purchase decision that should never be left up to chance.
They Have a Limited Inventory: A local dealership can only provide buyers with as many vehicle options as they can fit on their lot, or in their showroom. For car shoppers who know exactly what they want, and have no trouble finding it locally, this might not be an issue. For others, however, searching through dozens of area dealerships just to find a vehicle that "will work," is most certainly a problem. Embarking on a new or used car buying journey is exciting, and should never end with the buyer settling for a car they aren't entirely happy with. Rather than limit yourself to dealerships and their available inventory, consider the endless possibilities that online.cars offers with their nationwide database of over 100,000 new or used vehicles. Finding that perfect car is easier, and more likely, than ever before – thanks to online.cars.
They Have Limited Hours: The car buying process is one of the most time consuming purchases you will ever make. Car shoppers spend hours, sometimes multiple days, at a dealership before they drive home in their new or used car. No one wants to spend an endless amount of time sitting at the desk of a car salesman, but up until now, consumers may not have had a choice. Not only is the process time-consuming, but buyers are restricted to the operating hours of whichever dealership they choose to do business with. With most local dealerships open only six days a week, car shoppers find themselves having to take a day off from work, just to get their new sets of wheels. The best part of choosing a web-based solution like online.cars, is that they are always open, and the bulk of the process can be completed from the comfort of your own home or office.
Get Back Behind the Wheel of YOUR Car Buying Journey
Thanks to the web-based online.cars service, Cincinnati area car shoppers will never be subjected to sitting inside of a dealership ever again. From your couch, desk, or anywhere else you choose, you can begin the process of finding that perfect new or used vehicle you have been dreaming of owning for so long. Starting the car buying process with online.cars is so simple, and only takes a few minutes out of your day. After that, the online.cars team takes over, working relentlessly until they find you three great vehicle options you will be thrilled to choose from. With a database of over 100,000 new and used cars, trucks, and SUVs from nearly every automotive manufacturer, your vehicle search will only be limited by your imagination.
Don't restrict yourself to the limiting nature of in-person dealership like Kings Honda, when you can have it all with online.cars. Head online today, and discover all that this innovative service is bringing to Cincinnati, Columbus, and tri-state area residents who are fed up with in-person car dealerships.