How online.cars Provides More Than Bad Credit Car Loans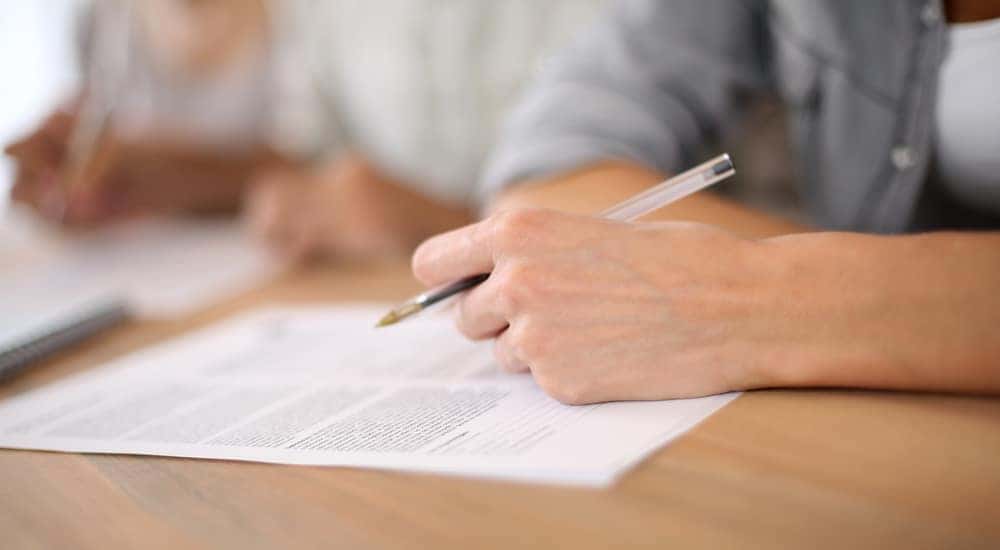 If you're looking to optimize the buying experience, you should consider purchasing your next vehicle from online.cars. The seller provides one of the most convenience experiences in the industry, and their protections and monetary incentives help emphasize why customers should be turning to them first. If you're looking to avoid the hassles that accompany a used pickup pursuit, you shouldn't think twice about turning to online.cars.
Best of all, this seller provides a unique opportunity to those who are seeking an auto loan with bad credit in Cincinnati. Normally, these individuals would find that it's particularly difficult to secure financing from a traditional lender, as few banks or credit unions are willing to take a risk on a financially unstable customer. These prospective buyers could turn to a Buy Here-Pay Here dealership, but this industry tends to be less-than-reputable. Seemingly, there are no real options for those with poor credit.
Fortunately, there is a logical target, as online.cars has you covered. Thanks to their ability to dive into a nationwide database of vehicles, the business can find a financial plan that makes sense for your budget. In fact, the company is so confident in their ability, they promise to pre-approve their customers for financing, regardless of their financial situation. This is a unique opportunity that you certainly won't find elsewhere, and their ability to leverage multiple dealerships means you're legitimately securing the best-possible deal.
Of course, as we mentioned, online.cars' does more than cater to those seeking an auto loan with bad credit in Cincinnati. Rather, the seller manages to promise an assortment of additional amenities, as well. Below, we've explored all of the benefits that the seller provides. Before long, you'll be wondering why you didn't turn to this business in the first place.
Convenience
online.cars is focused on providing their customers with the optimal car-buying experience, and a big reason for that sentiment revolves around the various convenience factors that they provide. Ultimately, customers will be hard-pressed to find a better ordeal elsewhere, which only emphasizes why they should be opting for online.cars for their next car.
Specifically, customers will have the opportunity to complete the majority of their purchase without even having to leave their house. As a prospective car buyer, you simply have to submit an inquiry to online.cars, specifying any specific attribute you may be seeking (whether it be a specific mileage number, color, year, make, model, etc.). Then, online.cars will dive into their nationwide database to find an applicable hit. Once they've landed on a vehicle that fits all of your requests, you'll move on to the monetary phase of the transaction (which might require you to finally put on pants).
The company even promises the utmost convenience to those who are looking to sell their current ride. Customers simply have to visit online.cars' website and enter in all of the applicable information about their current ride and the company will respond with an instant quote. In other words, you won't have to waste any precious time waiting for an offer to pop up. The company even offers to snag the vehicle directly from your house, which only further emphasizes their focus on convenience.
All of these opportunities usually aren't available when you shop for a vehicle from a traditional dealership. Rather, these sellers force customers to follow the same route every time, meaning you'll have to dedicate hours to searching through a business's inventory and then negotiating the price of the ride. Even after you've completed your purchase, it's more likely that you're burnt out over the experience instead of being excited about your new ride.
Protections
Now, we understand if you're a bit wary about pursuing a vehicle via the internet. After all, there tends to be a fair share of risks that accompany this specific route. Specifically, buyers won't have a chance to actually view their targeted vehicle before committing to a purchase. Once they finally receive the car, they may find that the vehicle has some mechanical problems, or perhaps the model simply isn't a proper fit. If you normally found yourself in this situation, you'd be forced to tolerate the vehicle until you can afford to pursue a replacement. This obviously isn't ideal.
Fortunately, online.cars accounted for these risks, and that's why they've provided their customers with a wide range of protections. Primarily, the company allows their customers to return their vehicle within three days or 150 miles, meaning you won't have to cut your losses if you're not a fan of the ride. Meanwhile, if you come across any mechanical problems, you won't have to dish out a whole lot of money thanks to the company's free lifetime mechanical warranty. Of course, you'd be able to anticipate any issues ahead of time, as online.cars also provides their customers with a CARFAX vehicle history report.
As we mentioned, few dealerships are willing to provide their customers with similar protections. If you normally found that you made a bad decision, you'd be forced to tolerate the vehicle for the foreseeable future. Fortunately, with online.cars, you can easily swap your vehicle for a replacement.
Monetary
When you consider all of the convenience factors and protections that online.cars provides, you might expect that their vehicles are a bit pricier than those from a traditional dealership. Well, you'll be happy to learn that the company also provides their customers with a number of monetary incentives, as well. Specifically, online.cars offers a $500 better price guarantee, meaning it will be next-to-impossible to find a better deal elsewhere. The company also offers to deliver your vehicle directly to your house without any accompanying fees, meaning you won't have to account for delivery charges as you're devising your budget.
Sure, traditional dealerships may try to entice you with gimmick sales or discounts, but these offerings aren't all that unique. Ultimately, you'll be paying the same price for a targeted vehicle regardless of where you make your purchase. In that case, why not opt for online.cars, which actually promises the best price?