How to Buy a Car Online: Your Top Questions Answered

You're looking for a new car, but you're not thrilled with the idea of venturing over to your local dealership to browse their inventory and spend hours haggling with a pushy salesperson over a fair price. Even the thought of the process is enough to make you cringe. But how can you avoid spending an entire day at the dealership and still get the car of your dreams? It all starts right here with our guide on how to buy a car online at Online.cars.
Thanks to the wonderful web, we're revolutionizing the car-buying process by taking everything online. Not only does this allow you to shop for a vehicle from the comfort of your home, office, or wherever you are, but you also have a wider selection of vehicles at your fingertips. So, how exactly does it work? Here are the answers to your top questions!
#1 Is Shopping Online for a Car Legitimate, and Can I Really Shop From Anywhere?
Does shopping online for a car sound too good to be true? Fortunately, it's completely legitimate and is designed to cater to your needs by bringing the process to you. Whether you're shopping from the comfort of your home as you binge-watch your favorite series or you're shopping during your lunch break at the office, you can truly shop from anywhere. When you shop with us, you'll have access to a variety of local cars, trucks, and SUVs, as well as our patented nationwide search tool that puts over 200,000 vehicles at your fingertips at all times. Finding your dream vehicle just got easier!
#2 How Do I Know That I'm Getting a Reliable Vehicle?
The risk that was once associated with buying a used vehicle is mitigated thanks to companies like CarFax that provide vehicle history reports on used models. These reports are a great way to get a better idea of the vehicle's maintenance and repair history, its number of owners, and any title issues. The report is one step in ensuring the vehicle's reliability before you sign on the dotted line.
Aside from asking for the vehicle history report, don't be afraid to ask the online dealership more about how they ensure the quality of their vehicles. For example, we have strict standards that every vehicle must meet before they're added to our inventory. We won't accept any vehicle with a major accident or salvage history, airbag deployment, electrical issues caused by flood damage, or odometer fraud.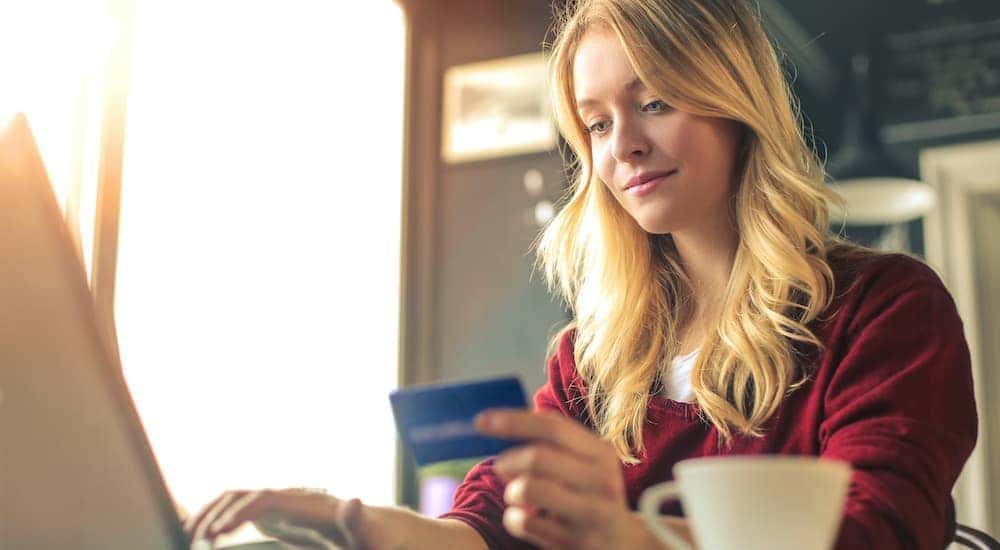 #3 If I Buy a Vehicle Online, Does That Mean I Can't Trade in My Current Vehicle?
Let's say that you're interested in trading in your current vehicle for a newer model. Does that mean that you have to shop at a brick-and-mortar dealership? Not at all!
Many online dealerships offer the same trade-in process as traditional dealerships, which makes shopping online for a vehicle even more convenient. For us, that process starts when you fill out the Trade-In Information form and submit a few pictures of your vehicle. We'll appraise the vehicle and make you an offer. If you accept the offer, we'll pick up your trade-in when we deliver your new vehicle right to your door. It's that easy.
#4 What If I Don't Like the Vehicle I Purchased? Can I Return It?
Shopping for a new vehicle is a big commitment. When you shop online for a car, it can be hard to make that commitment if you're not entirely certain that you've found the perfect vehicle for your needs. What happens if you buy the vehicle only to realize that you hate it?
Online retailers have a return policy that ensures your satisfaction; the same is true for many online car dealerships. Just like you can return a new pair of pants that don't fit quite right, these policies are designed to give you confidence in your purchase and peace of mind knowing that you aren't stuck with the vehicle if it doesn't satisfy your needs. We give our customers 10 days or 1,000 miles to return a vehicle, which means you have plenty of time to truly decide if it's right for you.
#5 Will I Have Access to the Same Warranties as I Would at a Traditional Dealership?
The only difference between purchasing a vehicle online rather than at a traditional dealership is that the process is virtual or wherever you are. You don't have to visit a dealership to complete the paperwork. This means that most online dealerships offer the same warranties and protections that you would find at traditional dealerships.
For example, our dealership is owned by McCluskey Chevrolet, and that means we offer all the same vehicle warranties that you'd find at any McCluskey dealership. To give you further confidence in your purchase and peace of mind when you're on the road, we extend this coverage to include a lifetime mechanical warranty that's valid as long as you have the oil changed every 6,000 miles.
#6 What Happens If My Vehicle Needs Service or Repair?
You purchased a vehicle online a few months ago, and now it's time for your first oil change. Where do you take your vehicle? Traditional dealerships have service departments, which means you don't have to think twice about where to take your vehicle for routine maintenance or repairs. Luckily, online car dealerships often partner with local service departments and repair shops to offer this same level of convenience.
If you purchased your vehicle with us, McCluskey Chevrolet's service department can handle all your vehicle needs. We also realize that some of our customers aren't in the Cincinnati area, and that means McCluskey Chevrolet isn't the most convenient option. That's why we've partnered with Tire Discounters to handle service, maintenance, and repairs for our loyal customers outside the metropolis.
#7 What If I Want to Speak to Someone in Person?
Just because you're buying a vehicle online doesn't mean that you'll miss the personal touch that you'll find at a brick-and-mortar dealership. Online dealerships usually have sales representatives that guide you through the entire process, from finding the vehicle of your dreams and valuing your trade to completing the paperwork and scheduling delivery. When you shop with us, you'll work with a Vehicle Solutions Specialist that will walk you through the process via phone, chat, and email.
#8 Is There an Actual Dealership I Can Visit?
It all depends on the dealership! Most online dealerships operate from a headquarters, which is where sales representatives, the finance team, delivery drivers, etc., are centralized. Whether or not you can visit these locations depends on the dealership. For us, we welcome you to visit our state-of-the-art headquarters in Loveland, Ohio, where you can meet your Vehicle Solution Specialist as well as members of the management, guest relations, and administrative teams. We'll even give you a gift card to the world-famous Montgomery Inn Rib House next door just for picking up your vehicle at our location!
Are You Ready?
Are you ready to start your search for your dream vehicle? The good news is that you can start your search with the touch of a button, thanks to online car dealerships like us that are transforming the car-buying process. Not only are we making the process more convenient and more accessible, but we're also giving you a wider selection to choose from with an inventory that stretches from coast to coast. That means finding the car of your dreams is truly at your fingertips!