Mind The Gap: A Guide To Buying Used Luxury Cars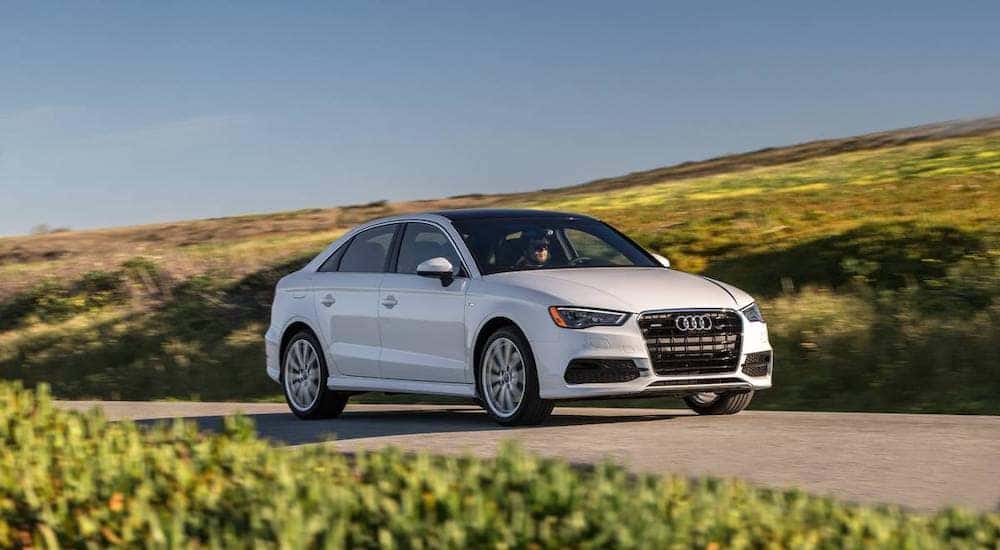 With an ever-widening price gap between new and used cars, Columbus, Ohio residents are finding that there has never been a better time to purchase used rather than new. The Wall Street Journal reported in the fall of 2018 that the price difference between new and used vehicles had reached its widest gap averaging at around $13,000. As more and more American consumers are being priced out of the new vehicle market (base models are averaging a starting MSRP of around $35,000), minding the gap has becomes less of a colloquialism and more of way of life, and the trending price disparity does not seem to be slowing its growth in 2019 as demand for vehicles has remained fairly stable.
Depreciation Meets Advancing Technology
The rate of depreciation is not a new concept for the modern car buyer in Ohio, but $13,000 is a huge differentiator that is turning a large number of consumers to the used auto market. When purchasing a vehicle it is understood there will be a significant loss in value over time.  This concept is most evident when purchasing new, as quite literally depreciation is initiated while signing on the dotted line.  In a report by car expert CarFax, it was estimated that a new vehicle has the potential to lose up to 10% of the vehicle's value in the first month of ownership.  This stats only go on to further claim that a loss of 20% in value may occur over the first 12 months of ownership of that new vehicle.  For many, these losses are not acceptable and seek a more financially sound alternative. With the original owner saddled with the bulk of the losses associated with buying new, the more economically responsible alternative is often to shop for used cars in the Columbus Ohio area.
This price gap combined with advancements in automotive technology has eased many of the past burdens that came with purchasing used vehicles. Most well made vehicles last up to and well over 100,000 miles with none or limited repairs. A quick survey of used cars for sale in Columbus reveals a decent majority from a variety of automakers with speedometers reading over or at the 100,000 mark (i.e.at remarkably reduced prices as well).
"Owners who keep their vehicles beyond the manufacturer's warranty period are able to have greater peace of mind that vehicles are becoming increasingly more dependable," says David Sargent, vice president of global automotive at J.D. Power and Associates. According to research company R.L. Polk, automobile owners in the United States are holding onto their cars well past warranty with average age reaching a record high 10.8 years. This is close to double the life expectancy of a car from the 1930s; this statistic is based on a one hundred year gap. so some changes are obviously going to be expected. The point is still no less evident, though.  "Today's cars are built to last as long as 250,000 miles or more with simple routine care," says ASE-certified Master Automobile Technician and Chicago Tribune auto-service columnist Bob Weber.
Luxury Used Vehicles
According to Car and Driver, a new 2018 BMW 3 series sells for $41,000, but if you purchase the 2017, you get it for $35,000. Keep in mind that as long as you purchase within the same generation, a used car has most of the same features without losing closing to 20 percent of its value. Even better, technology has afforded Columbus used-car shoppers the creature comforts once only associated with out of price range luxury vehicles. Even three-year-old vehicles are still outfitted with modern conveniences, many of which are now standard features, such as Bluetooth, hands-free capability, heated seats and sometimes even WiFi. "The rising popularity of auto leases in recent years has led to an influx of cars coming off lease, creating the opportunity for consumers to find bargains on late-model vehicles," iSeeCars CEO Phong Ly said in a statement. "Consumers who take advantage of these best bargains can purchase a three-year-old car for half the price of what it would cost to buy the same car new."
And although this is not isolated to luxury vehicles, not a fluke that only applies to BMW or luxury higher priced vehicles, it is an intriguing prospect to focus on purchasing new used luxury vehicles. The rate of depreciation in the first three years has never been so high and particularly for luxury vehicles. On average, cars are depreciating at a rate of 35% over a three year time period; However, according to iSeeCars, there are several current models that are depreciating at a rate of more than 50%. That's right; you can get your hands on a premium luxury vehicle for half of the price if your willing to purchase up to 3 years used. And we are here to give you the scoop on which luxury cars you can purchase at the used car prices you can afford. .
Audi A3
Available as a convertible or sedan, the Audi A3 earns top-notch reviews from reliable auto sources for being a solid, compact luxury sedan that offers a smooth, comfortable ride with a surprising amount of power from its turbocharged 2.0-liter engine; Mated with a seven-speed dual clutch transmission, the front-wheel-drive A3 packs quite a punch with 184 horsepower and 222 lb-ft of torque.
MSRP: $32,500
Depreciation: 47.9%
Average three-year-old used price: $21,120
Cadillac SRX
This mid-size luxury SUV has a decked out, fully luxe interior while offering the smooth ride you have come to expect from a Cadillac flagship vehicle. Its refined V6 engine is nothing to scoff at either with 308 horsepower, and with the inclusion of many of today's top advanced safety features, the Cadillac SRX comes at a steal as its 2016 last year of production puts it already at a 3-year-old used price of $26,291.
MSRP: Discontinued
Depreciation: 47.2%
Average three-year-old used price: $26,291
Volkswagen Jetta
The Jetta may have a smaller engine than its sister brand Passat, but it is more efficient with a quick shifting eight-speed automatic transmission. With a Jetta, you get the precision driving from years of refinement with the much more roomier comfort of modern design; Also, the SEL's trim has a Digital Cockpit and large 8-inch infotainment screen that will wow you.
MSRP: $18,745
Depreciation: 48.1%
Average three-year-old used price: $13,157
BMW 5 Series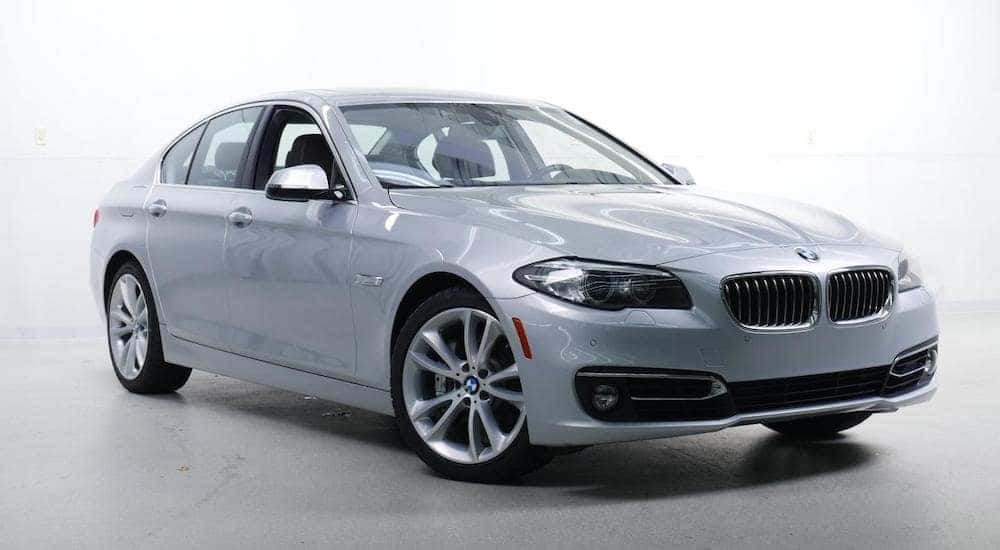 Ranked number 1 by USNews for luxury mid-size cars, the BMW5 series delivers a blend of high performance, smooth ride,  and sharp handling from its several powertrains available for selection. The interior quality receives top awards that few competitors can match with a spacious cabin providing two rows of comfortable seats. It comes with several standard features which benefit used car buyers, and since the biggest complaint from consumers about the 5 Series is its price tag, buying it used at a huge downfall of close to $20,000 will seem very inviting.
MSRP: $53,400
Depreciation: 52.6%
Average three-year-old used price: $30,846
Mercedes-Benz E Class
A high-quality interior decked out with the most cutting-edge technology available places the E Class squarely at the top of its class. A well-rounded performance from any of its variety of powertrains makes any trip seem effortless; but its main appeal for used car buyers will be the variety of options that let original owners build their ideal sedan, coupe, convertible, or wagon. That means come resale time, used car shoppers should have several options for the E Class to meet their driving needs.
MSRP: $53,500
Depreciation: 49.9%
Average three-year-old used price: $34,010
Online.Cars – The Best Luxury Used Cars Columbus Ohio!
The average new car for Americans has become more expensive pushing more consumers to used-car dealer lots or rather than new-car showrooms. Some, even forgo the hassle of searching the lot and choose to purchase their used vehicle online. Why spend all that time on the lot when you can purchase your new used car from the comfort and convenience of your office or home. That's where Online.Cars comes in providing a digital solution to car buying for the digital age. With Online.Cars, you receive the best offers from the largest online inventory of used cars Columbus, Ohio has to offer without ever leaving the comfort of your home. In a digital age where we all love to shop online, why wouldn't we shop for vehicles online in the same manner? It makes sense and will ultimately save you time and money.