online.cars – The Better Way to Buy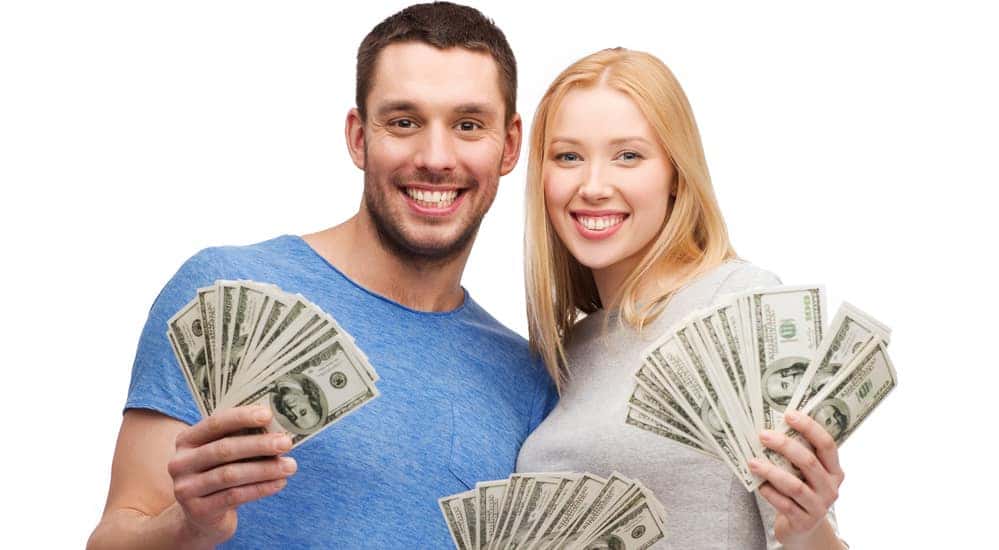 There's something fun about going car shopping – especially on a weekend. After all, what sounds better than spending your Saturday standing in a hot parking lot for hours, trying to browse through dozens of cars, all while being pressured into test driving and buying in the same day – because of course, if you don't buy today, the incredible deal the incredibly pushy salesperson is offering will surely be gone tomorrow.
Hey, at least you'll be wide awake – those little cups of cold, stale coffee aren't going to drink themselves, you know.
We know there is a better way to buy a car. Sure, you can go visit local dealers like Jake Sweeney Mazda, but why would you when you could just hop online from the comfort of your own home and shop through online.cars? When it comes to Jake Sweeney Mazda vs. online.cars, there is no competition.
With all of this bluster, you're probably wondering – okay then, what the heck is online.cars anyways? In short, online.cars is a revolutionary new way to car shop. You know how you use Amazon to browse and buy thousands of products, which are then shipped directly to your home? Well, that's exactly what you get with online.cars – a huge inventory of cars from across the nation. Find the perfect one for you, and let online.cars deliver your new car right to your front door – all with no little cups of coffee or pushy salespeople to contend with.
Tell Me More About online.cars
No problem. In fact, let's use Bob as an example. Bob needs a new car but Bob has no desire to go to a dealership. In fact, Bob wants to sit at his kitchen table enjoying a large, hot cup of fresh coffee, watching the morning news and eating a stack of blueberry pancakes (What can we say? Bob knows how to a do Saturday right). Bob also wants a black 2015 Ford Explorer sitting in his driveway. Can Bob make his dream morning come true? He sure can. Bob simply has to log on to online.cars and complete a quick questionnaire that asks Bob the type of car he's looking for, the year he'd prefer, the maximum mileage he'd be happy with, the maximum amount he's willing to spend, the make, model and trim type he'd like, the transmission he wants to drive and even the color he'd like his car to be. There is also space for Bob to add in any additional information about his dream car – the more information Bob gives, the better the sales staff can assist him in his search.
online.cars Sales Concierge: Let Us Help You
"Whoa, whoa, hold up," you say. "I thought there were no pushy sales people at online.cars!"
I apologize for scaring you. Let me clarify – while there are no pushy salespeople at online.cars… there are car buying concierges, and these are the people who are going to look through the vast nationwide inventory of cars to find Bob several cars that match his criteria. Most likely, Bob will get between two-to-four cars to choose from, allowing him to make a final decision that he's sure to be pleased with.
And if he's not? Well, hey, sometimes that happens. And just like those shoes Bob ordered from Amazon that were just a little too flashy for him, if he's not 100 percent satisfied with his purchase, Bob can send the car right back to where it came from. All online.cars vehicles are backed with a three-day or 300mile money back guarantee, so Bob can rest assured he'll be completely satisfied with his purchase – which is more than most dealerships can say!
Bob's Not Made of Money
Bob may make a mean blueberry pancake, but he's not exactly whipping up dollar bills in that kitchen. Much like the rest of us, Bob's going to need to finance this purchase and that's okay because with online.cars, you can apply for financing right online. In fact, even if you've got less than awesome credit, that's okay – the online.cars team of financial wizards can help get you in a loan that's just right for you. Don't believe me? Go ahead and use the chat feature online to get some more details about financing options, or just pick up the phone and give online.cars a call at (513) 741-1111. The friendly staff at online.cars will be more than happy to give you all the information you need to feel comfortable buying your car over the internet. The online.cars team is standing by, ready and willing to help you figure out the best financing option for your budget.
You Can Have Your (pan)Cake and Eat It, Too
While buying from a dealership like Jake Sweeney Mazda can be a huge pain in the backside, there is a definite upside – the dealership usually offers a pretty good warranty on every car sold. Poor Bob is going to miss out on that benefit if he buys from online.cars, right? So wrong. In fact, each and every car sold through online.cars comes with a free lifetime mechanical warranty. Talk about peace of mind.
So Bob has a choice to make: does he wake up with a plan to spend a sunny Saturday standing on scorching hot asphalt, getting bullied into a car he probably doesn't love and fighting to negotiate a decent deal with the finance team? Or does he wake up, pour himself a hot cup of joe, power up his laptop and complete a quick questionnaire that allows a dedicated sales concierge to hunt down the perfect car for him? Bob can then go about his day and come back to a few options that match his criteria, which he can browse through while he's laying in his comfortable bed, getting ready for a good night's sleep. Decision made, Bob can roll over and enjoy sweet dreams of waking up to his new car in his driveway… full tank of gas included.
Be like Bob. Buy from online.cars.