Securing No Credit Car Loans in Indianapolis
Buying a car can be a stressful experience for anyone, especially if this is your first time. Securing no credit car loans in Indianapolis can be a successful process if you do your homework and follow some simple steps. As a first-time car buyer, you want to find the right car for the right price and not end up with buyer's remorse. Buying a car is a huge purchase and when you have little or no credit, that can add more stress to the entire process. You probably feel like you won't get a car loan without credit. However, you can get no credit car loans in Indianapolis if you take the time to read through these tips and implement them in your car buying process.
1. Assess Your Finances
Financial issues are usually not the first topic we'd like to think about or discuss. However, as a first-time car buyer you need to take an introspective look at how you spend money and what you can actually afford. You don't want to enter into a car loan without the financial stability to pay for it. Defaulting on the loan can turn your no-credit history into bad-credit history, which nobody wants. If you have saved up money and can pay cash for your vehicle, that is the best option. However, if you don't have enough saved up, you'll need to figure out how much money you can use for a down payment.
Before checking out an auto loan calculator, you need to take a specific look at your current monthly budget. If you already have a budget in place, that makes this car buying process easier for you. However, if you don't, it's time to get serious. Make a list of your monthly payments such as rent, food, and health insurance costs. Make sure to include everything you spend each month including costs for eating out and entertainment activities. Whatever income you have left, after setting money aside for savings, can be delegated to car funds. Remember that you need to figure in fuel costs, car insurance, and money for repairs—in addition to the monthly loan payment.
2. Get Your Priorities Straight
Now, as a first-time car buyer, you are probably excited and can't wait to make your purchase. Just remember that caution should always take precedence over your excitement. Use common sense. Figure out our priorities. Identify things you actually need in a car and what you want. Make a list differentiating the two.
For example, maybe you need a fuel efficient car so you can get to work each day but make sure you're saving money. You might want a truck or AWD vehicle because you like to go camping or hit the trails on the weekend. Those are transportation needs that you need to clearly establish. Now, getting an expensive sports car is not a need, no matter how much you want one. There might be some things that you want to splurge on like a nice sound system or high-quality infotainment system. However, make sure that you stick to the pre-determined budget for the vehicle, which includes the added costs for fuel, insurance, and repairs.
3. Search Online
Research is an important part of getting the best deal for a first-time car buyer. You may have seen some nice cars in the parking lot at school or work, but have no idea what they cost. Before you get too excited about assuming you can afford one that's on your list, research online to see how much that specific make and model costs. There is a wealth of information available to you simply by searching online. You can find out the price for that new model you've been hoping to get or ascertain if maybe you should consider buying a used vehicle.
Don't forget the human aspect of researching for a car. Talk to your parents, family members, or friends who have been long-time vehicle owners and who can offer you some advice from their own experiences. Hearing about their experiences can better prepare you for what you may encounter on your own car buying journey.
4. Understanding Financing Steps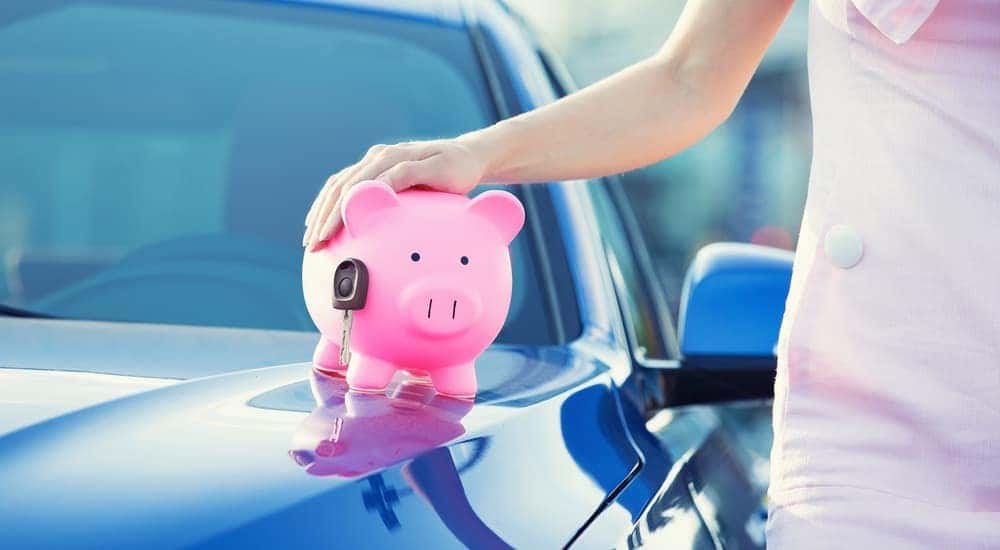 You may be clear about what you want and need in a car. You now have your budget figured out and are ready to proceed, but the thought of securing financing for no credit car loans can be daunting. You can go to a dealership and check out cars and speak to a loan officer there. Although, now that you're here, you can check out our Guaranteed Credit Approval section to find out more about the process for financing your car.
At Online.cars, we specialize in working with first-time car financers and young people who haven't yet built up their credit. We can work with people who have challenged credit so they can work towards achieving excellent credit. Understanding the financing steps for buying a car with Online.cars is simple.
Our website is easy to navigate. Getting pre-qualified is easy and you can instantly see what finance rate you qualify for. When you click on this step, you'll need to input your contact information and gross monthly income in order to get pre-qualified. And this won't negatively impact your credit score since we do not ask for certain information.
With our Shop-by-Payment option, you can get personalized, pre-qualified payments on our entire inventory using our finance programs filters. This option allows you to choose the body type of the vehicle such as sedan, SUV, convertible, or pickup. You choose the target monthly payment and cash due at signing, which includes estimated tax, title, fees. With this personalized shopping experience, you'll enjoy our platform that is built around your unique preferences and financial profile. There is no obligation to purchase when you get pre-qualified. Our system is private and secure and there will be no adverse impact on your credit by getting pre-qualified.
The payment calculator on our website makes it easy for you to calculate what your monthly payment would be based on the finance rate you've found. You can estimate the monthly amount of your car loan by using this online calculator. You'll need to input the vehicle price, down payment amount, interest rate, and term, such as 60 months.
When you use the online tools that we have made available, you can get a better understanding about the financial process as a first-time car buyer with little to no credit.
Stop Searching and Start Driving with Online.cars
Securing no credit car loans in Indianapolis with Online.cars is a simple process. Stop searching and start driving today with Online.cars. There are so many benefits to shopping for your first car with Online.cars. You'll get a Lifetime Mechanical Warranty at no charge and a 3 Day / 300 Mile money back guarantee. We provide a guaranteed CARFAX clean vehicle history report so you can have confidence that you are getting a reliable vehicle. You can save time and money when shopping on Online.cars. The used vehicles we sell have undergone world class vehicle reconditioning and are ready to be driven. You can make your first-time buyer experience easier by getting personalized, pre-qualified payments on our entire inventory. Best of all, you can benefit from guaranteed credit approval as a first-time buyer with little to no credit history.