Smooth Sailing Comes Standard on a Chevy Cruze
We think central Ohio is a pretty great place to be. Ohio itself has a truly all-American legacy. More presidents and astronauts hail from Ohio than any other state. Rock and roll and pro football house their Halls of Fame in the Buckeye State – speaking of which, OSU Buckeye football culture is among the strongest and proudest sports fandoms in the nation. Right in the middle of it all – and within 500 miles of 50% of the American population, too – is the capital of Columbus, ideally situated in an ideal state. In this part of the country, you never know where each day might take you, which is why we think it's important for drivers to do their research when shopping for a used car in Columbus, Ohio.
If you're in the market for a small car, there's plenty of reasons to submit the 2nd generation Chevy Cruze for your consideration. The 2nd generation Cruze was introduced in 2016 and was sold until 2019. It offers better fuel efficiency, a significantly longer list of standard features, and more cargo room than most of its competition while boasting a sublime ride and significant highway peppiness. Combined, these highlights make it a great choice for daily commuters and frequent travelers alike in the Columbus region.
An Economic, Environmentally-Friendly Selection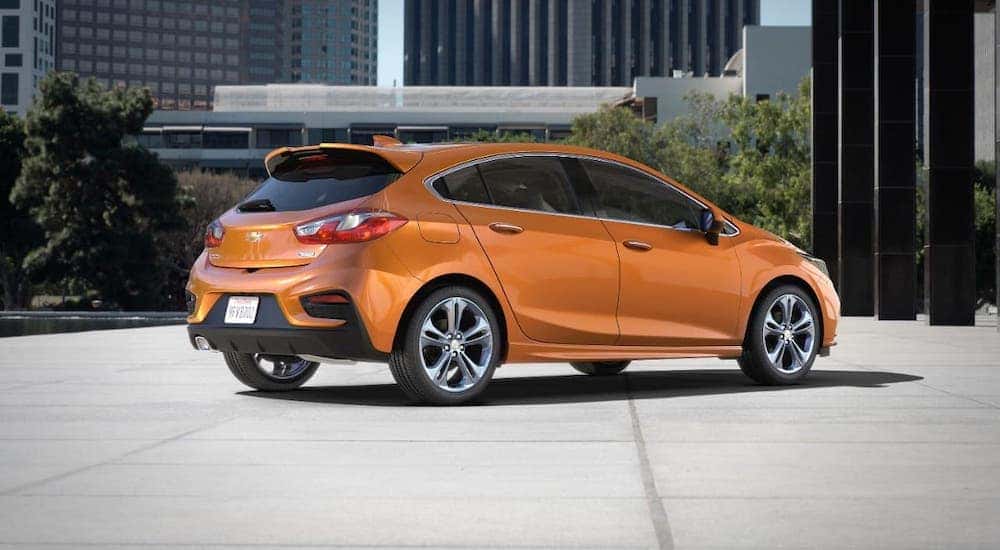 We'll start with the heartbeat of the car – the powertrain. Chevy models from 2016-2019 offer a turbocharged 1.4L 4-cylinder engine that makes 153 hp. The turbo causes a slight lag when accelerating from a standstill, but it's otherwise sufficient for accelerating at all driving speeds. Overtaking slower vehicles on the highway is no challenge for the Cruze. 2017 saw the addition of a 1.6L diesel engine to the lineup, which makes 137 hp but provides better acceleration under all conditions while delivering best-in-class fuel efficiency. In fact, both engines have renown fuel efficiency – the gas engine achieves roughly 28 / 38 MPG (city/highway) while the diesel can manage a whopping 30 / 52 MPG depending on the model.
Standard for 2016-2018 is a 6-speed manual transmission (an automatic version is optional), which maximizes efficiency and enhances the experience of driving a Cruze at speed. The diesel engine has an optional 9-speed auto as well, which further refines the ride by smoothing out the shift changes. Chevy removed the manual transmission for 2019, making the 6-speed auto standard, so buyers who prefer stick shift should focus on the 2016-2018 model years.
We'll take a moment here to address the elephant in the room: reliability. Older Chevy Cruze models are known to suffer engine, transmission, and cooling system leaks. Some of the common issues can be fixed in your home garage, while others tend to be significantly more expensive.
Improved reliability is one reason why we are focusing on the 2016-2019 Chevy Cruze models – the 2018 and 2019 models, in particular, have excellent reliability. Beyond that, when you shop with us at online.cars, you'll benefit from our lifetime warranty against major mechanical issues, a guarantee that your new-to-you Cruze has a clean CARFAX history and the CARFAX buy-back guarantee as well.
Only 1 in 700 vehicles that we inspect meets our standards for resale to customers, so although historical reliability issues give older Cruzes an above-average cost of ownership for its segment, we think you'll find that a 2016-2019 Chevy Cruze from online.cars will keep your costs low.
On top of that, even low mileage examples sell for well under $20k – the average sale price is right around $15k for 2017-2019 models and $13.5k for 2016. Same-year Honda Civics sell for about $5k more. With a low price point, excellent fuel efficiency, and a top-notch warranty to back it up, it's hard to argue that there's a more economical used small car than the 2nd generation Chevy Cruze.
Comfort that Satisfies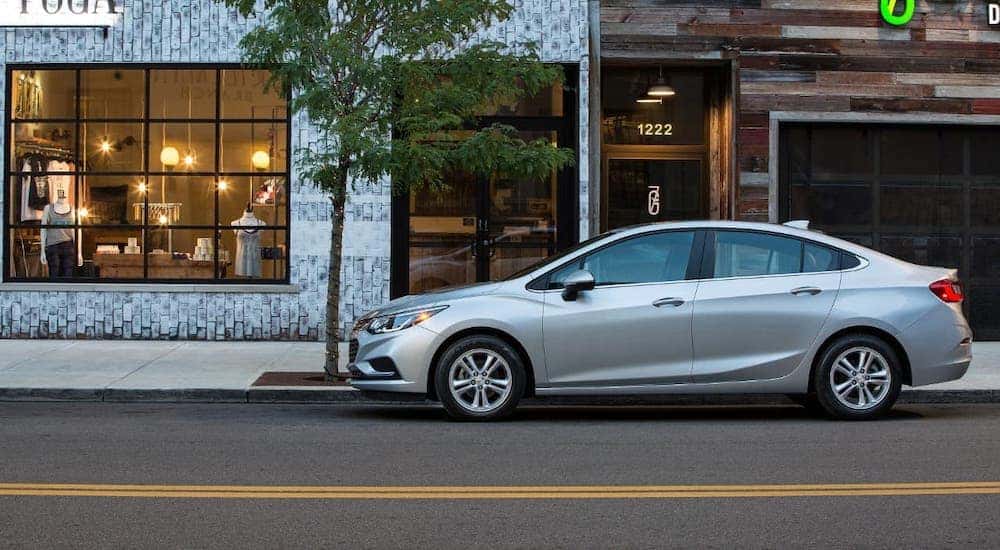 Comfort is king for many buyers, whether you're looking for a daily driver, anticipating frequent road trips for work and pleasure, or need a solid 2nd or 3rd car for the family. The 2nd generation Cruze delivers comfort through four primary avenues – the best standard features list in-segment, excellent crash test performance, spaciousness defying its "small car" status, and sublime ride quality.
One aspect of every Chevy Cruze built from 2016 to 2019 that stands out from the competition is an extensive list of standard technology features on the entry-level trim. This list includes but is not limited to a 7" infotainment touchscreen, Bluetooth phone connectivity, Apple CarPlay, Android Auto, and a Wi-Fi hotspot. These connectivity features are typically only available on mid-level trims, even for new cars – especially a Wi-Fi hotspot – but they're standard on 2nd-gen Cruzes.
A rear-view camera and Teen Driver (standard as of 2017) are also included across the board. Teen Driver is a valuable parental control tool that allows parents to set up a profile for their teen driver that, among other things, limits top speed, prevents gear shifting before belt buckling, and records driving data for later review. It's a feature that makes many modern GM products ideally suited for families with student drivers, especially the small, safe, easy-to-handle Cruze.
While many driver-assistance features such as blind spot monitoring, lane change assist, and rear parking sensors are only available as options, you can always ask about and check for them on used 2016-2019 models. The Driver Confidence package, including many of these features, can be had at most trim levels other than Base, so you just might find them if you look. Many vehicles will also include OnStar capability to contact emergency services in an instant if the vehicle is in an accident.
Another highlight acknowledged about the Cruze year after year is the profound easiness of the driving experience. While it isn't a sporty design, it does have responsive steering and a gentle, well-tuned suspension for absorbing road imperfections. This delivers a driving experience which is at once lively on windy roads and deceptively relaxed on city streets. Add to that soft yet supportive front seating, which is applauded for comfort over long distances, and you have yourself a small car that you might actually enjoy taking a road trip with.
Finally, while the rear seating is merely adequate for 3 adults, you and a front-seat passenger won't have to make tough decisions about luggage on those road trips we mentioned. Both the sedan and hatchback body styles have significantly more cargo volume than average for compact cars – 14 cu.ft. and 22.7 cu.ft., respectively. The hatchback capacity even rivals that of the Chevy Equinox when you realize that with the rear seats folded it has over 47 cu.ft. available. Available for 2017-2019 (with the optional diesel engine in 2018-2019), the hatchback body style delivers crossover utility in an even less expensive package.
Cruze Around Columbus With Ease
The Chevy Cruze is no longer sold new in the USA, but the 2nd generation 2016-2019 models make a great choice for shoppers in the used car market around Columbus, Ohio. Their small size and excellent fuel efficiency make them easy to handle and incredibly cost-efficient. A long list of standard features and ample cargo room helps drivers feel right at home. With our clean CARFAX guarantee and lifetime mechanical warranty, plus the superb crash test scores achieved by the Cruze, you'll have peace of mind that both car and passengers will all get home safely.
In central Ohio, life takes many different shapes and directions. Whether your day will be limited to a regular commute or see you driving off to distant cities, whether you want to save a buck without sacrificing convenience or get the right car for your student driver, if you're shopping for a used small car near Columbus we think the 2016-2019 Chevy Cruze is a great choice. Take advantage of the 3 day / 300 mile money-back guarantee that we offer at online.cars to bring one home for the most thorough test drive – or, dare we say, pleasure Cruze – you've ever done.