The Ultimate Guide to the Used Chevy Cruze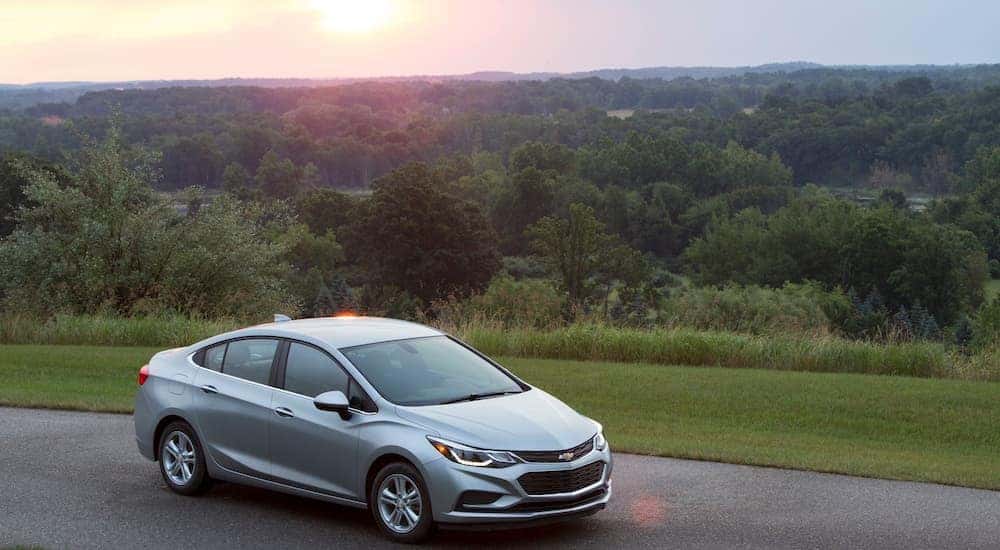 Are you looking for a used Chevy Cruze? Our online car dealership can help! Making its debut back in 2008, the Chevy Cruze has made a name for itself among American drivers. As a compact sedan that gets great gas mileage, used Chevy Cruze models are highly sought-after. They make the ideal commuter car, and they can even work for college students and teen drivers. Small enough to manage parking in a big city, you can easily maneuver through a crowded downtown area.
As of now, there are only two generations of used Chevy Cruze models. Overall, the vehicle can seat four or five people, and it offers 14.8 cubic feet of room in the trunk for groceries or luggage. There is also a hatchback model that provides 22.7 cubic feet of space in the back. If you fold down the rear seats, you can maximize the total cargo room to 47.2 cubic feet.
First-Generation Highlights
Revealed to the world for the first time at a GM press conference in July 2008, the first-generation of Chevy Cruze models were well-received. Throughout this generation, several powertrains were tested out on these petite models. Let's look at the lineup by year.
For its initial release outside of North America, there are two engine options. The 1.6-liter I-4 engine is equipped with either a 5-speed manual or 6-speed automatic transmission. Pumping out 111 hp and 113 lb-ft of torque, this standard engine can be found on models throughout the first generation. If you want a bit more power, the 1.8-liter I-4 engine generates 139 hp and 130 lb-ft of torque. However, it only uses the 5-speed manual transmission. There is also a diesel option. It's a 2.0-liter I-4 diesel motor that uses a 5-speed manual transmission to produce 148 hp and 236 lb-ft of torque. This powertrain was retired in 2011 for a revised motor.
For the 2010-2011 North American release of the Cruze, several powertrain revisions can be seen. First is the 1.4-liter I-4 engine with either a 6-speed manual or automatic transmission. This particular motor produces 138 hp and 148 lb-ft of torque. Next is the revamped 1.8-liter I-4 motor with either a 6-speed manual or automatic transmission. This one pushes out 136 hp and 123 lb-ft of torque. There was no diesel option for the North American market to begin with.
From 2012 to 2014, the only changes that were made to engines were to the diesel options. For 2014, the revised 2.0-liter I-4 turbocharged diesel motor with a 6-speed automatic transmission has seen a power upgrade. Drivers also now had the option to go diesel with an engine that gives drivers 148 hp and 258 lb-ft of torque.
This first-generation of Chevy Cruze models were produced until 2016. Throughout this time frame, several unique trim levels were manufactured for buyers to choose from, so they could fit the Cruze to their specific needs. Each one has something different to offer drivers looking for a used Chevy Cruze in today's world.
The first base model is the LS. It remained as the only base trim until 2015, when a new entry-level model was created. Some of the highlights you will find on a used chevy Cruze LS include 15-inch steel wheels, full power accessories, keyless entry, and air conditioning. This trim also includes cloth upholstery, carpeted floors, AM/FM radio, an auxiliary jack, a CD player, and a 6-speaker stereo system. Once the L model took the base trim title in 2015, most of those features remained except for the carpeted floors.
Produced from 2011 until 2016, the 1LT trim adds larger 16-inch aluminum wheels and much better tech features. This model comes with satellite radio, OnStar telematics, Bluetooth phone connectivity, and even cruise control. This is also where you will find an early version of the Chevrolet MyLink infotainment system. Also produced during the same time frame, the 2LT includes 17-inch wheels, heated/leather-trimmed seating, a leather-wrapped steering wheel, blindspot monitoring, and rear cross-traffic alert. Based on the 1LT, the Eco trim comes with a rear spoiler and active front grille shutters for better fuel economy. The diesel option was based on the 2LT trim with a diesel powertrain.
Finally, the top-of-the-line LTZ was also manufactured from 2011 until 2016. It included luxury features like aluminum-alloy wheels and remote start technology. You might even find one on the used market with a GPS navigation system.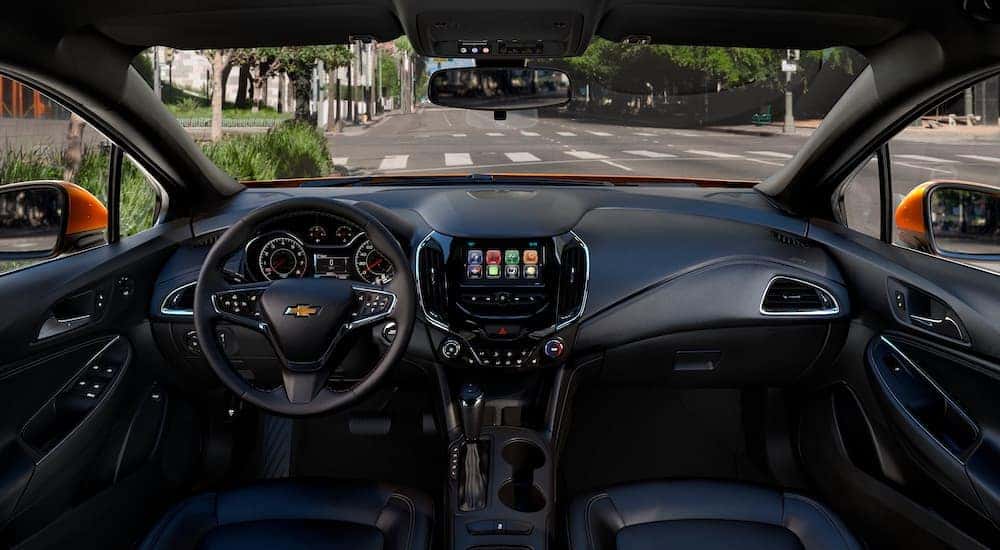 Second-Generation Highlights
The second-generation was first released in 2016, and it is still in production today. The vehicle has been revised with a split grille face and a sloping "fastback" roof for a sleeker exterior look. It's also a bit longer than the first-generation, and it comes with high-tech features like advanced smartphone integration. You will also only find three different engines on these used Chevy Cruze models.
The powertrain lineup for this generation only features I-4 motors. These range from 1.4-liter to 1.5-liter to 1.6-liter engines, with the 1.6-liter option being the diesel motor. There are also three transmission choices, including a 6-speed manual, 6-speed automatic, and 7-speed automatic. Also, keep in mind that the second-generation is where you will find the hatchback body.
You are more likely to find a used Chevy Cruze from the second-generation production run, and we recommend these models over the first-generation. The 1LT and 2LT trims have been combined into the LT trim, and both the Eco and Diesel trims have been retired. Also, the LTZ has been renamed the Premier.
Every trim level includes the Chevrolet MyLink infotainment system with a 7-inch touchscreen. They also all come standard with AM/FM radio, an auxiliary jack, a USB port, satellite radio, Bluetooth phone/audio connectivity, Apple CarPlay, and Android Auto. Taking technology to the next level, you will also find OnStar telematics and a 4G LTE Wifi hotspot on every trim. Air conditioning, keyless entry, and full power accessories are also standard.
Higher trims get upgraded alloy wheels, push-button start technology, and remote start. You may also find a premium Bose sound system with a subwoofer and an amplifier. The top-tier Premier trim gets a larger 8-inch touchscreen and GPS navigation. You won't have to worry about being lost in a new city ever again. Power-adjustable seats and a power tilt-and-sliding sunroof can be found as well. Also, on the Premier, you will get heated leather seats to keep you warm and cozy during the winter.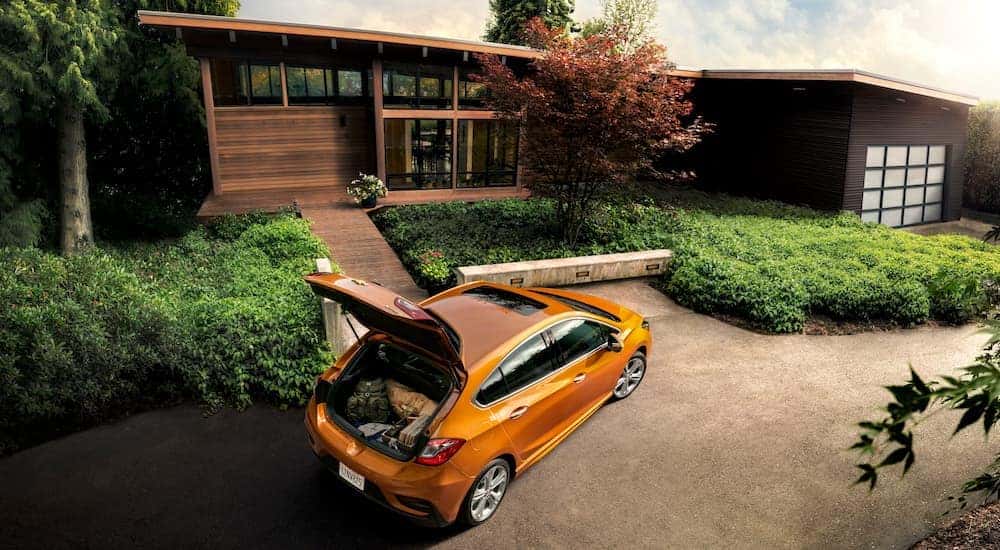 Find a Used Chevy Cruze Today
If you are interested in purchasing a used Chevy Cruze, then we recommend getting in touch with our experts at Online.cars. Our website can help you narrow down which model you want by using our Nationwide Search software to find the perfect match. We offer several perks for those who buy with us, including a lifetime mechanical warranty, guaranteed credit approval, and a 10-Day Money Back Guarantee so that if you don't love your new car, you can try again. We want you to drive away with the perfect Chevy Cruze for your family. Visit our website and get started shopping online with us today!