Today is a Joyous Day for a Used Chevy Vehicle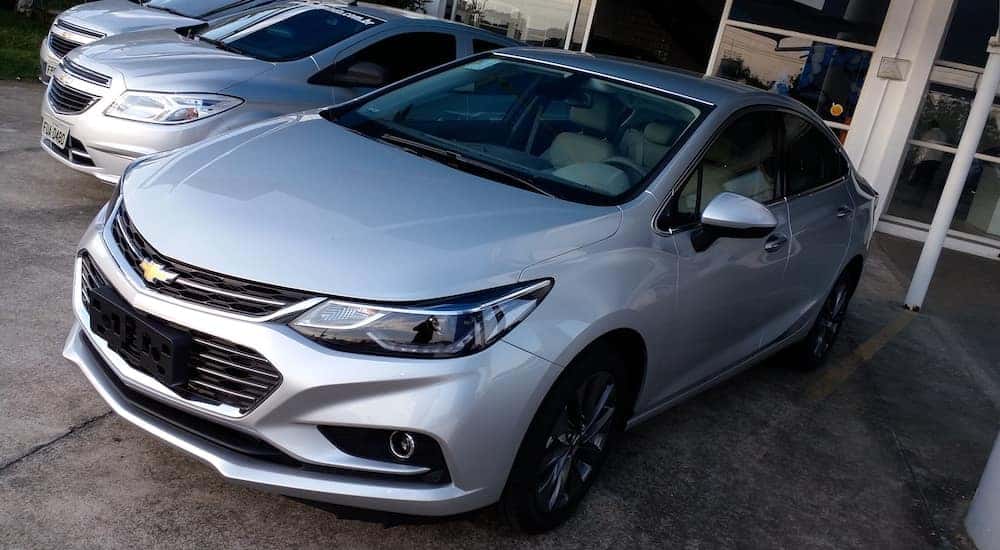 Yes, today is truly a joyous day to go out and get a used Chevy vehicle, but in fairness, every day is a great day to get a used Chevy in beautiful Columbus, Ohio. The reasons for this may be clear, but let's break it down. Here are some of the top reasons it's always a pleasure to purchase a used Chevy in Columbus.
Why a Used Chevy?
A used Chevy is basically like combining the best of two worlds. Chevys are quality vehicles that are fairly price, and used vehicles are the most reasonable investments a driver can make to gain the best value possible. Together these two are a powerhouse combination that can't be beaten. So here are a few key factors that make used Chevys in Columbus so great.
Chevy Cares about Everyday Drivers
These days it is difficult to find brands that are looking out for the everyday driver instead of just trying to hype up the latest trends and tech. The main reason Chevy has gained such a loyal following is due to their careful consideration of what the vast majority of drivers need and want in order to make their everyday life better.
Chevy has a Long and Proud History
Chevy or Chevrolet is an automotive brand that has been around since 1911, making it over a century old. In that time they have manufactured more than 200 million vehicles that have reached drivers everywhere. Their vehicles have always had a massive following due to their ability to connect drivers, and their quality and reputation have never been questioned. In fact, they are the most awarded name on the market  Not many brands have such an impressive record under their belt, and Chevy is only growing more established by the day.
Used Chevy Vehicles are Extremely Affordable
Chevy vehicles, in general, are very buyer-friendly with a solid mix of quality and convenience, but used Chevy vehicles are even better as they allow drivers to discount these already reasonably valued vehicles. Used cars not only have a slow rate of depreciation, but they also come with a much lower insurance rate. This means in one vehicle you are getting three ways to lower your ongoing expenses. Just to review the ways you save with a used Chevy:
Lower cost for used Chevy
Low depreciation rate
Low insurance rate
Used Chevy Vehicles offer Double Versatility
There isn't a class of automotive vehicle that Chevy has not introduced to its lineup at some point. In fact, on the current market, Chevy has five sedans and hatchbacks, two electric cars, two performance vehicles, six crossovers and SUVs, four trucks, and four commercial vehicles. Used vehicles often have the advantage of letting you discover models from every year and every type, and when you add that to Chevy's already advanced level of versatility, you get double the possibilities. This also means that no matter what kind of lifestyle you choose to live, in the Columbus area where roads can go from smooth to rough in just seconds, you will be able to find a vehicle to match it perfectly.
Chevy's Best and Most Popular!
Now that you see some of the many advantages to investing in a used Chevy in Columbus, it's time to take a look at some of Chevy's best and most popular options that have won over fans from every walk of life again and again.
Chevy Cruze
The Chevy Cruze is a fairly compact car that provides a smooth, comfortable, and stylish ride for all those who love their vehicle easy to handle and easy on the wallet. The overall design is sporty, the performance is fair with high fuel economy, and the cabin is cozy with plenty of feature options. Also available in a hatchback, the Cruze allows for either an aerodynamic styling or convenient cargo space depending on what your life requires.
Chevy Malibu
When it comes to an all-around balanced mid-size sedan, you can't find much better than the passionate Chevy Malibu. Always a fan favorite, the Malibu shines with its elegant and dramatic design that is only evaluated by its efficient and powerful performance capabilities. Whether you prioritize power, control, safety, tech, or style, the Chevy Malibu is the way to go.
Chevy Equinox
The Chevy Equinox is one of Chevy's top small SUVs, and a lot of that is thanks to its ability to remain flexible. As an SUV on the smaller end of the spectrum, the Equinox mixes the smoothness and handling of a sedan with the power and convenience of an SUV. The space it offers is efficiently versatile, the power is sufficient for most terrains, and the features it offers seem limitless. If you want a vehicle that is designed to make your life easier, the Chevy Equinox is the best the market has to offer.
Chevy Traverse
The Chevy Traverse is a mid-size SUV that makes it easy to pack up and will allow you to go anywhere your heart desires. Plenty of space for all of your cargo and passengers, the Traverse allow drivers to make do with every inch of space. Not only is this space vast though, but it is also completely customizable. Whether you want more seats or a flat cargo area, the Traverse will accommodate your needs. So if you are hungry for the next big adventure, and enjoy being prepared for anything, the Chevy Traverse is a solid choice.
The Silverado Series
Probably the biggest stars of the Chevy lineup, the three Silverado pickup trucks are some of the finest trucks on the market in style, power, and practicality. The Silverado 1500 is your basic light-duty model that knows how to get the work done by day and enjoy life by night. The Silverado 2500 and Silverado 3500 are the heavy-duty models that are designed to do the tough jobs for you and do them with perfect efficiency while looking bold and commanding. You can never go wrong with a Silverado, and that is why the fanbase it has already obtained would live and die by this brand.

Buying Online
While we all love getting dressed to drive from dealer to dealer in order to spend hours looking at car after car and talking with pushy dealers, there may just be an even better way to get your used car. At Online.cars you will be able to browse at your own pace as you are granted access to a quality inventory of used vehicles in the Columbus area. The automotive buying process has never been easier as you are connected to your own personal representative that will answer all of your questions, lead you through the system, and assure that your experience is completely personalized to your needs. Online.cars also offers a number of benefits like car delivery, guaranteed credit approval, and a 3 day or 300-mile money back guarantee. The future is all about convenience, and what could be more convenient than saving you time, money, and frustration on your next automotive investment. Life is hard enough without having to make a spectacle of which vehicle you should buy, so just make your life easier and choose Online.cars for a used Chevy in Columbus.