Top 5 SUVs Outdoor Adventurers Must Have
Not every vehicle is made to take advantage of some of the most beautiful and hard-to-reach places that the great outdoors has to offer. You can't expect a sedan to rock climb in the same way that you probably wouldn't expect a minivan to tear up a mud track at high speeds. You need very specific vehicles to accomplish very specific tasks when it comes to outdoor adventuring. This rings especially true when trekking into the hills, venturing into the Appalachians, or taking in the sights off the beaten path. Thankfully, there are some SUVs available from the best Louisville online car dealership that allow you to accomplish everything mentioned in this paragraph.
To help you get out into the great outdoors, let's take a look at the top 5 SUVs for adventurers and the must-have models to help make your outdoor excursions exciting, exhilarating, and exquisite. Keep in mind that we cover the SUVs primed for outdoor adventures with the trims and equipment to handle life off the asphalt road. But don't be shocked if a couple of surprises make the list as well.
#5 – Jeep Renegade
It's not quite as big as the Cherokee and not quite as famous as the Wrangler, but it's still a capable little SUV that's great for a number of functions. Even though the Grand Cherokee has become more renowned for its off-road features, the Renegade actually looks more the part than its longstanding relative. A lot of it has to do with the more Wrangler-oriented styling and compact design. The Renegade looks like it was designed to climb rocks and kick sand, and it turns out that that's exactly what it's good at doing.
The compact design and modern styling of the Renegade give it the contemporary appeal many younger drivers are attracted to. However, if you want a serious off-road SUV, the Renegade delivers in spades. While not every trim is designed to scale cliffs and stand tall atop the cresting peak of a mountain, most of the trims come with four-wheel drive capabilities and an available turbocharged powertrain.
Getting more into the specifics, the Renegade – much like the Cherokee and Wrangler – comes standard with a terrain management system for its four-wheel drive configurations. The downside to the Renegade is that it can't quite tow as much as its larger siblings, and it lacks some of the more customizable off-road features as the Wrangler and Cherokee. But even still, the Renegade makes for what could be considered a great entry-level off-road vehicle at a very affordable price. The benefit of great fuel economy only adds to the Renegade's appeal.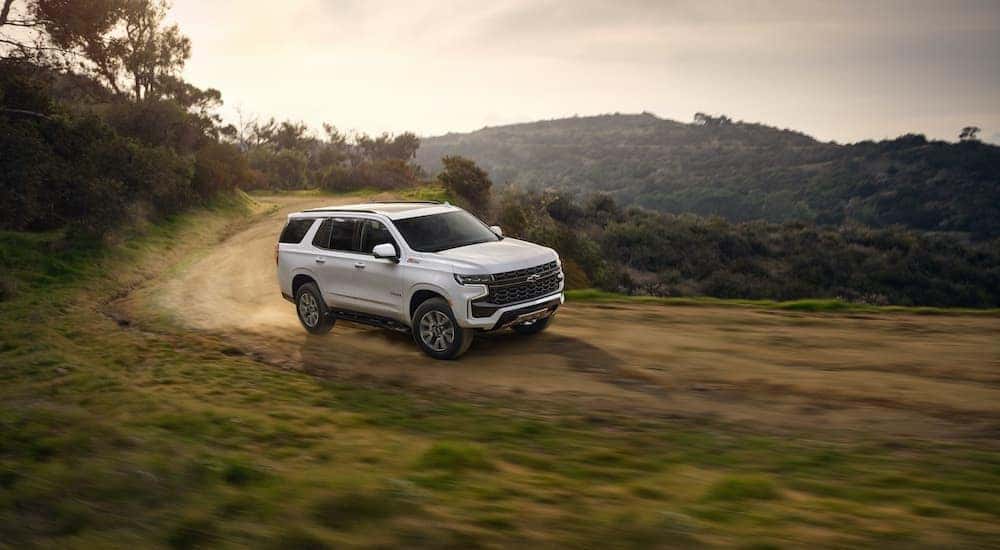 #4 – Chevy Tahoe
You probably didn't expect to see a full-size SUV on the list, eh? Even still, this large passenger vehicle from Chevy is a lot more capable than you may have originally given it credit for. The Tahoe is surprisingly versatile as an off-road SUV, despite its appearing as a more luxury-oriented passenger vehicle. But don't let the deceiving looks keep you from picking up a Tahoe for lots of outdoor travel and adventure purposes because the full-size SUV is exceptionally capable.
The Chevy Tahoe is available in multiple trims that come in four-wheel drive configurations. So even if you just wanted the most bare-bones SUV features to travel off-road, the Tahoe is quite accommodating. If you choose to move further up the trim line, you'll find that some variations of the Tahoe are more off-road ready than others right out of the box. In fact, the new Z71 trim is specifically made for those who seek the thrills and excitement of off-road traversal.
The Z71 trim comes with off-road specific upgrades, such as hill descent control and hill start assist, along with a heavy-duty air filter, modified suspension, and all-terrain tires. Surprisingly, the High Country luxury trim is also designed to give you plenty of off-road capabilities, coming standard with many features and upgrades to help maintain stability and comfort while tackling dirt paths and gravel roads. For instance, the High Country comes standard with magnetic ride control and a powerful 6.2-liter V8, so you get plenty of performance and comfort no matter where you travel.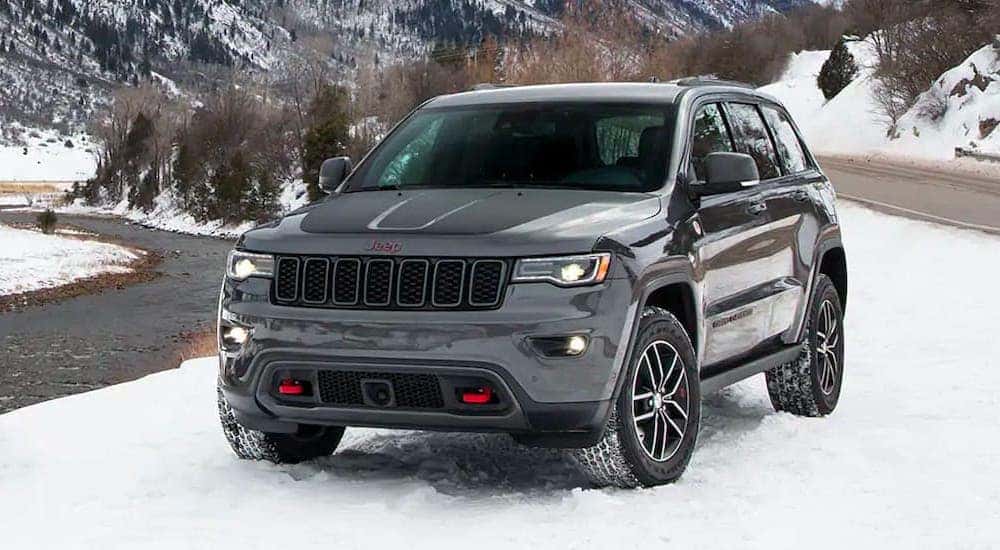 #3 – Jeep Grand Cherokee
It's expected to see Jeep vehicles on this list more often than not, but it's all with good reason. The brand has become synonymous with off-road adventure, and the Grand Cherokee is one of the best representations of that. The SUV has been notoriously available in a multitude of trim options over the years, many of which are specifically designed to tackle off-road adventures.
In fact, the Jeep Grand Cherokee has different models designed specifically for certain kinds of off-road tasks. Just about every trim is available in four-wheel drive, and there are different transfer case and suspension options available for the various trims, allowing for off-road adventurers to find a variant that scales to their expectations. For the ultimate off-road experience, some of the best features include improved front and rear differentials, along with the Quadra-Trac or Selec-Trac 4×4 system, depending on the trim.
If you really want to tackle off-road trails with ease, the Trailhawk's 4×4 capabilities give you everything you need right out of the gate. While some of the other trims can be configured with four-wheel drive, the Trailhawk is only available with four-wheel drive. The Trailhawk is also available with a powerful V8 if you need the extra horsepower to cross streams or roll over rocks. It's the ultimate Jeep Grand Cherokee off-road model for SUV enthusiasts with a strong taste for adventure.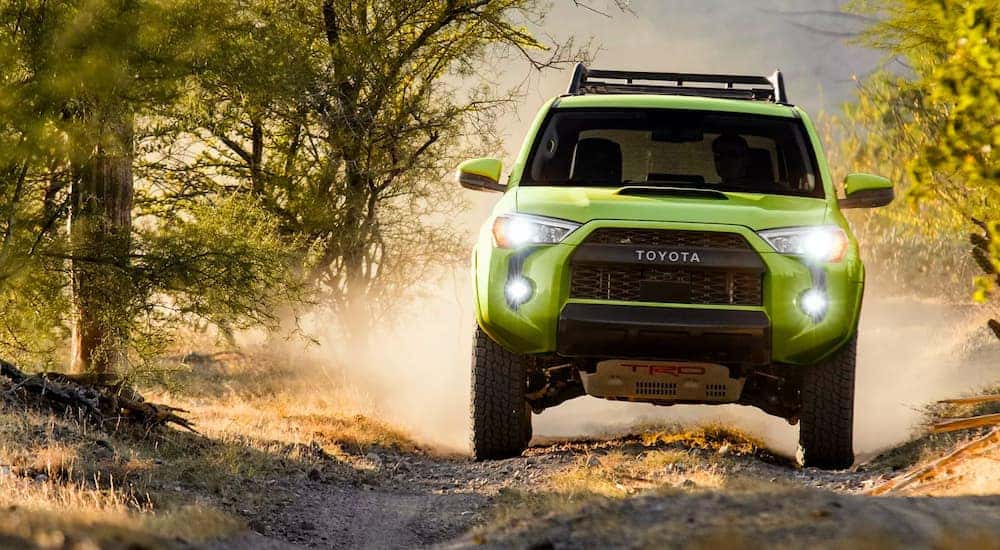 #2 – Toyota 4Runner
Toyota has been in the off-road SUV game for a long time. It's not surprising that one of their SUVs would make the cut, and so why shouldn't it be one of the most rugged SUVs on the market? The Toyota 4Runner has a long and illustrious history in the industry and has carved out its place as a durable, long-lasting, rugged four-wheel drive utility vehicle.
Unlike many SUVs, which only occasionally and intermittently tap into the off-road culture, the Toyota 4Runner never abandoned its roots. It's an unashamed off-road utility vehicle that pretty much tells you everything you need to know about it based on its looks alone. The off-road-ready ground clearance coupled with the boxy design and rugged exterior makes it known that if you want some real adventures, the 4Runner is ready to take you on them.
Practically every trim is specifically designed to handle off-road traversal. This includes a very capable powertrain with mechanical and electronic systems to improve traction, as well as hill ascent and descent assistance. Toyota has retained the Active Traction Control, known as A-TRAC, for the 4Runner over multiple generations, and this system is very much a rival to Jeep's Quadra-Trac and Selec-Trac systems. With available high-performance suspension and shocks paired with standard body on frame construction, there's nowhere the 4Runner won't be able to take you, so long as you're willing to travel there.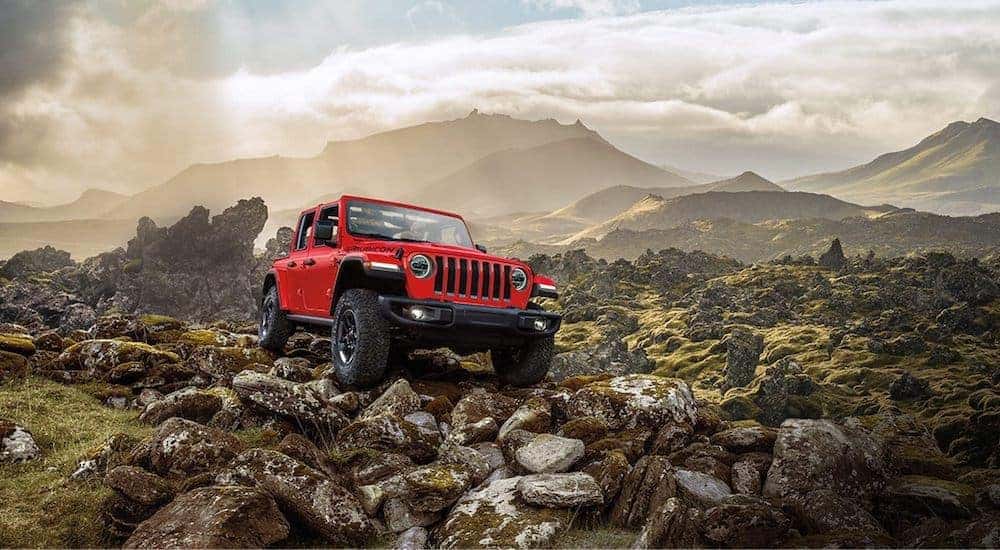 #1 – Jeep Wrangler
There was never going to be a more recommended SUV for adventure than the iconic Jeep Wrangler. The nameplate is practically synonymous with off-road adventure. The Wrangler certainly helped put the "utility" in "sports utility vehicle," with its long and illustrious history dating back to the days of World War II.
Modern-day Wranglers are a completely different beast than their wartime ancestors. They are not only undeniably stylish but pretty much embody the epitome of being functionally rugged. The high ground clearance, approach angles, and departure angles make it perfect for rock crawling, river fording, and trudging through some of the most unwelcoming road conditions, whether it be mud, sleet, rain, snow, floods, or debris.
Famous for housing Dana axles, locking differentials, and a multitude of transfer-case options, the Wrangler is the perfect companion for the adventurer-minded traveler. Whether you need a heavy-duty four-wheel drive system such as Rock-Trac, or a more road-oriented setup such as Command-Trac, the Wrangler has an extensive line-up of technology and features designed to travel where the roads aren't paved. For the ultimate adventurer, the ultimate adventuring machine is no doubt the Jeep Wrangler.