Top Concerns of Used Car Buyers Like YOU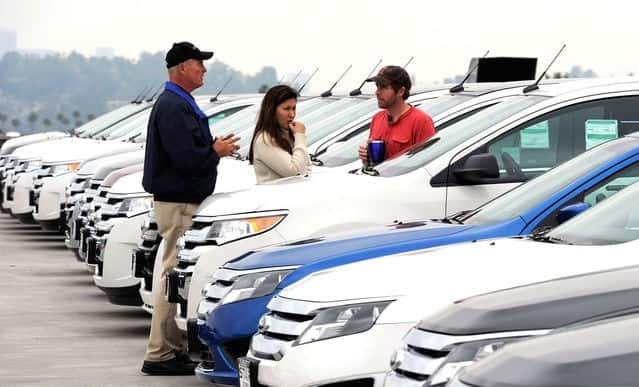 Imagine a time when buying a new or used car wasn't only exciting, but an event. Just as we enjoy spending the day at an aquarium or museum, car buyers looked forward to spending time at their trustworthy local dealership. What once was a normal occurrence has unfortunately become the exception, and no longer the rule, for car shoppers. Instead of looking forward to, and anticipating, an upcoming used car purchase, buyers are dreading the very thought of stepping foot inside of a dealer showroom. With hundreds of people searching for used cars, Cincinnati dealerships aren't delivering the same high quality service that buyers from past generations came to depend on.
Top Concerns of Used Car Shoppers and Why They Are Justified
No other sales or service industry in history received so many complaints, yet continued to operate unchanged. As residents continue their searches for high quality used cars, Cincinnati dealerships continue to provide service that does not reflect the changing needs of car shoppers. Let's take a look at the most frequent concerns voiced by area residents regarding used car dealerships, and how a new web-based solution might be the answer to every one of these common complaints.
Price Gouging: While this is not an entirely unfounded concern, the majority of consumers armed with a smartphone or tablet can put their mind at ease, prior to signing any official paperwork. The major issue with price gouging comes in the form of additional "charges" added by the used car dealership. These tacked-on amounts may seem small when looked at on an individual basis, but they can add up very quickly. A used car dealer may have the initial price for the vehicle listed at fair market value, but after superfluous fees and extra charges, the final cost can be well above what it should be. To combat this unfortunate practice, be sure to challenge any extra or hidden fees, and walk away if the dealer in question does not want to provide you with a thorough explanation.
Bad Quality Cars: This is likely one of the most common concerns of used car shoppers, especially when buying from a dealership that is not associated with a major brand. The best way to ensure you don't drive home in a lemon is to ask for the vehicle's Carfax report. Any reputable dealership will provide you with this required report, without question or hesitation. Check to make sure the report matches the vehicle identification number on the car you want to buy, to avoid any potential misguided information. If the used car dealer refuses to produce a Carfax report when requested, don't hesitate to walk away. In fact, it's probably best that you run.
Pushy Salesmen: All of the most unpleasant used car buying experiences has a pushy salesman featured in the starring role. These ethically-questionable employees will stop at nothing to secure the highest possible commission for themselves, which means talking you into add-ons that you don't actually need. The best piece of advice would be to avoid these people like you would the plague. The moment you get an unsettled feeling, or sense that something isn't right, grab your belongings and head back home. Being stuck with the same car you drove to the dealership in is the best possible outcome for this worst case scenario.
Talked into the Wrong Car: A used car dealership is no place for a people-pleasing person to go alone. If you are the kind of person who seeks out approval, and genuinely wants to make those around you happy, be sure to bring a buddy with you on your used car journey. The same type of salesman we discussed earlier, is so eager to see you drive off in a newly purchased car, that they will try and convince you to buy a used vehicle you don't actually want. For some, this may seem like a ridiculous concern – but it happens more often than you might think. When you go to a dealership, know which one of the used cars you want to buy, and don't sway from your decision. If that same car salesman with dollar signs for eyes tries talking you into buying any other car on the lot – run, do NOT walk, to your nearest exit.
Eliminate Every Used Car Buying Concern with online.cars
For those of you searching tirelessly through used cars in Cincinnati, hoping to find a great option at a reputable dealership, pull to the side of the road, and take a deep breath. It is possible for you to find a great car at a trustworthy dealership, and it is even possible for you to enjoy the experience as much as the generations before you did. Instead of crossing your fingers and hoping to find the one shiny gem in a pile of massive rocks, head online and discover the solution to your used car buying woes with online.cars.
Providing options of great used cars for Cincinnati area residents, online.cars harnesses the power of the internet, and the connectivity it offers, to deliver a one of a kind car buying experience. For finding used cars from every automotive make and model available, car shoppers are realizing the unlimited potential that online.cars has to offer. By simply filling out a short online questionnaire, you can be on your way to securing the exact used car you want, without having to concern yourself with shady dealership antics.
The entire online.cars process is completed online, from your smartphone or other connected device. Once you provide the online.cars team with a description of the exact used car you have in mind, they immediately begin looking through more than one hundred thousand options from across the nation. Your personal sales concierge will send you three great options for you to peruse at your leisure. If one of the available options is a car you want to take for a test drive, online.cars will have it delivered right here to Cincinnati for you to check out in person. At that point, you can either buy it and drive home in the used car of your dreams, or pass it up in hopes of finding something even better. Either way, the online.cars web-based car buying service is so convenient and easy to use, you will be amazed that no one has offered anything like it before.