Truck Mania And Shopping For Used Ford Trucks in Indianapolis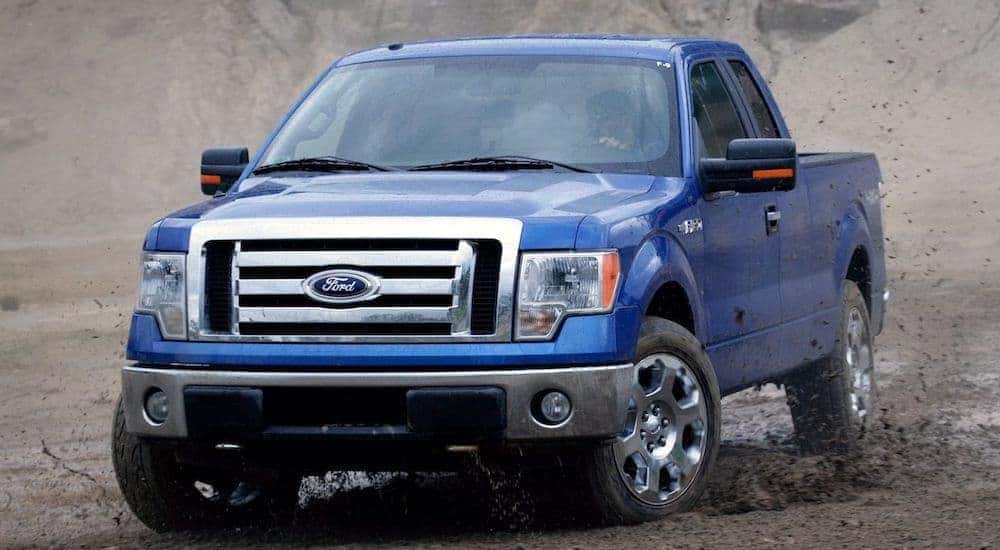 Truck mania is sweeping the nation, and Indianapolis residents are certainly not the exception. American consumers purchased 2.7 million full-size pickups in the last year alone according to data compiled by IHS Markit. Aside from America's increased obsession with purchasing a whole range of trucks, perhaps the most out of place or oddest statistic is the high number of heavy-duty versions that auto buyers purchased in 2018; of the 2.7 million, 660,000 were heavy-duty trucks, many of which were not purchased for the typical commercial usage. With that, those searching for used Ford trucks in Indianapolis have a lot to consider.
As the average truck buyer has changed so has your average full-size truck buyer, according to Ford's spokesperson. And where once these truck purchases were primarily made by contractors, delivery services, and construction workers, they are now largely being purchased by non-commercial buyers like stay-at-home parents, off-road enthusiasts, and white collar business professionals; non-commercial buyers are actually controlling the heavy-duty market right now making up close to two-thirds of the purchasing power. We are talking spending on big price tag vehicles, upwards of $60,000 to $100,000, that they are mainly using for ordinary civilian living tasks.
To put the drastic change in the truck market in a better perspective, the average price of a car purchased in Indianapolis has increased by about 18% since 2004; over the same amount of time in the same city, the average cost of a pickup truck has gone up by more than 40%. Many Indianapolis consumers, even former lifelong truck owners, are being priced out of the market as the pickup truck becomes a luxury vehicle. What's the solution especially when you can not afford the full-size truck you need for work or play? Buying used and buying Ford seems to be the only answer, and Online.Cars have the most extensive inventory of used Ford trucks Indianapolis has to offer.
There are literally thousands of moderate mileage, moderately priced, reliable Ford used trucks for sale on the market today. But which year and what engine type is the right fit for your truck needs. Here is a guide on some of the best Ford truck years with a quick rundown of the multiple powertrain options to help you make the best selection.
2009 Ford F-150
2009 opened the door for a new F-150 welcoming in a slew of much-needed changes. Ranked number 1 in USNews' list for Best Used Full-Size Trucks under $25K, Ford completely redesigned the body and frame of the vehicle which went on to earn high marks in safety scores while still outperforming its class in towing capacities.
The 2009 F-150's performance standards remained high with most critics hailing Ford's smooth and surprisingly comfortable ride. Two V8 engines were offered for the truck, a smaller 4.6-liter and the larger 5.4-liter V8. Although speed is not its forte, you feel more than enough power while driving with or without a payload. Both Two and four-wheel drive were offered when the F-150 was released, and the two-wheel drive F-150 powered by the smaller V8 achieved 15/20 mpg city/highway, which is typical for the class.
The F-150 can tow up to 11,300 pounds with the 5.4-liter V8, which is among the best ratings in the class. Tech options and standard creature comforts are limited on the base XL model, so be wary of purchasing a 2019 if you need to be connected or feel luxe in your pickup. Otherwise, reliable safety ratings. Still by most standards modern look and appearance, and towing capacity that still measures up to some of the best in its class make any 2009 Ford F-150 worth a second and possibly even third final look.
2010 Ford F-150
Off-Road Enthusiasts need only apply. Ok, we are including the 2010 not necessarily for any of its own individualistic merits. The pickup mostly carries over from the complete redesign from 2009; so, it is a prime year truck candidate to look out for, but we have covered that ground already.
What the 2010 F-150 does do better than most is being capable of one of the highest towing capacities in the segment. A 310-horsepower 5.4-liter V8 Raptor was eventually made available later that year that was capable of pushing 310 pound-feet of torque. Also released new that year was the high-performance off-roading SVT Raptor edition for those situations where extreme off-road capability is needed. Critics and auto enthusiasts alike still rave about the Raptor's capabilities to turn any driver into an off-road enthusiast. And the Raptor does not lose any power being rated to tow 6000 pounds and carry a maximum payload of 1020 pounds. Oh yeah, the 2010 F-150 also managed some of the highest safety scores in the class that year which is a definite bonus.
2013 Ford F-150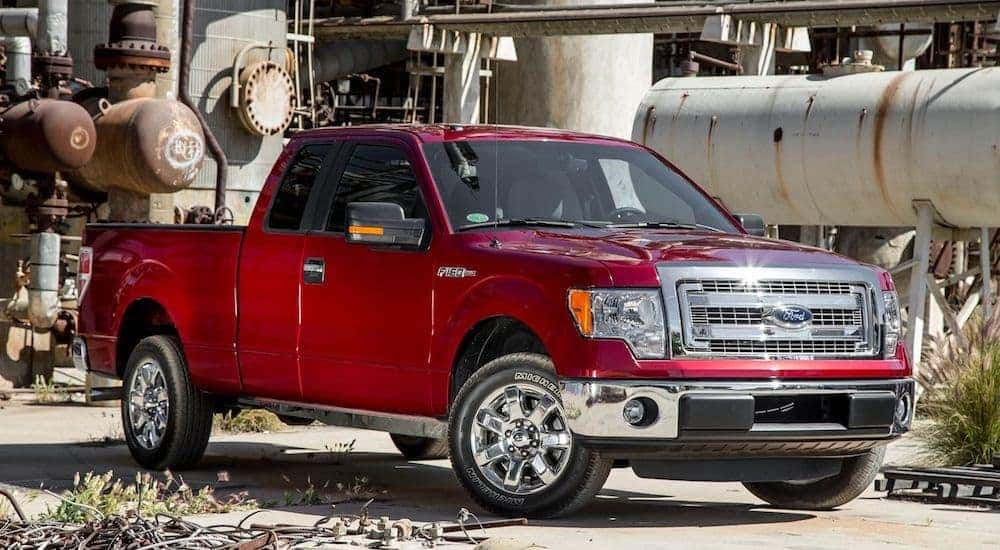 The 2013 Ford F-150 is probably the earliest year of an F-150 version that you will find retailing for less than $25,000. It is also the first F-150 to be known for its litany of available options from engine choices to cab selection; not only will you be able to find a moderately priced 2013 F-150, but you will also be able to search an extensive inventory of possible variant for the same year to better meet your pickup truck needs.
With the 2013 F-150 SuperCrew, owners get an adaptable F-150 model with a roomy interior, 130.9 cubic feet, that sits five adults comfortably with slightly above average hauling capacity. Maximum payload is 1,700 pounds, and maximum towing ability is 11,300 pounds for this configuration. Some unique technology updates such as trailer sway control and the MyFord infotainment system also debuted that year. Combining separate body-on-frame construction, steel structure, and rear- or optional four-wheel drive, the 2013 F-150 offered three engine choices with a V6, turbocharged V6, and V8 powertrains each paired with a six-speed automatic transmission, a first for full-size pickups.
The 2013 Ford F-150 received a 4-star rating from NHTSA in its 5-Star Safety Rating Program, good ratings from the IIHS on all crashworthiness measures, and above average predicted reliability scores as well.
According to the EPA, you can expect anywhere from 17 mpg in the city and 23 mpg on the highway down to around 12/16 mpg city/highway. The F-150's base fuel economy is better than that of most other trucks. No matter your needs, a used 2013 Ford F-150 is a great option. As a basic work truck it excels with towing capacity, and for the daily errands, it is roomy enough to fit most small families with enough refinement that you won't embarrass the kids when you pick them up from school in it.
2015 Ford F-150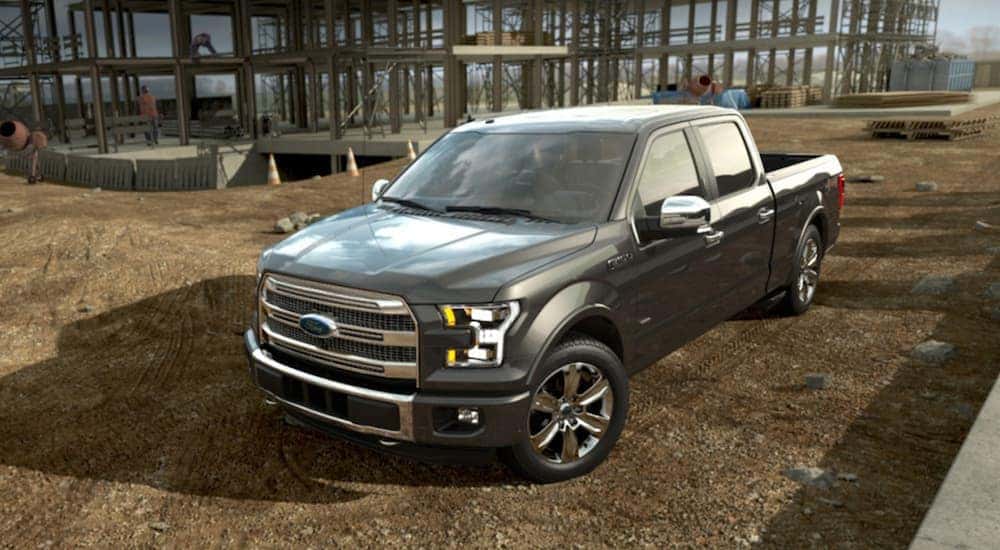 No list would be complete without the game-changing 2015 Ford F-150 that broke all the rules by going aluminum. Ranked No. 2 in USNews' Used Full-Size Trucks $25K and up list, the 2015 F-150 was completely overhauled shifting construction and bodywork from conventional steel body construction to one made of lightweight aluminum.
The 2015 F-150 comes with four available engines: a 3.5-liter V6, a twin-turbocharged 2.7-liter V6, a twin-turbo 3.5-liter V6, and a 5.0-liter V8. Critics preferred the new twin-turbocharged V6 engine for light-duty pickup shoppers due to its surprising power and outstanding fuel efficiency. It achieves 19 mpg in the city and 26 on the highway. The twin-turbo EcoBoost V6 provides a whopping 12,200-pound best-in-class towing capacity. Also available in the redesign was a rearview camera-assisted trailer hitch aid, inflatable rear seats, a snowplow prep package, and a myriad of new safety features.
The Ford 2015 may not be the cheapest used Ford truck for sale, but in comparison to the price tag on its third and fourth year sibling, it is a steal and as close as you will get to new while still being used.