Why You Should Buy the 2017 Chevy Impala Online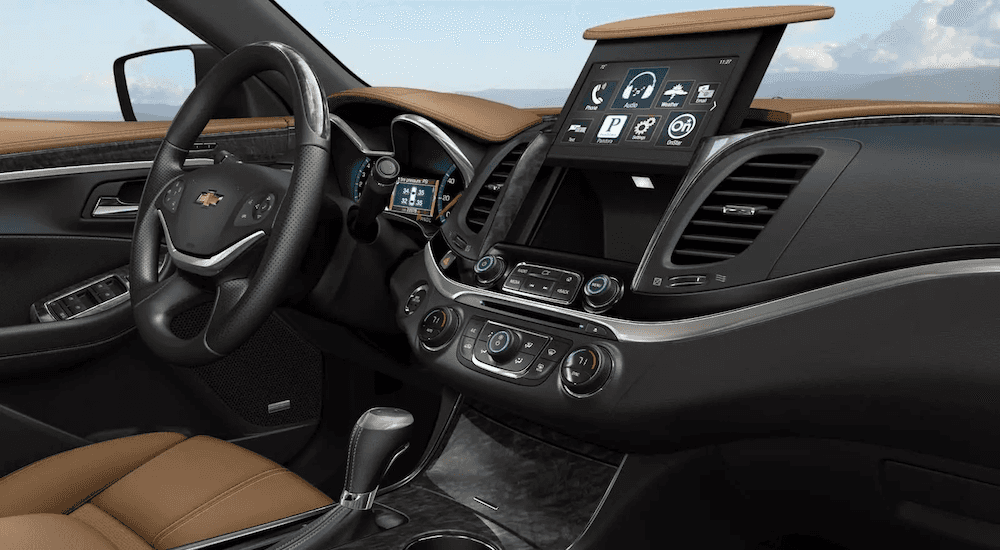 If you have a bit of flexibility when it comes to your budget for a new vehicle, then we'd definitely suggest pursuing a large, full-size car. After all, this segment tends to deliver all of the amenities and attributes that consumers are seeking: engine power and efficiency, safety, technology, and comfort.
Well, if you're looking for the optimal full-size car, then you won't have to look much further than the 2017 Chevy Impala. The iconic nameplate is once again on a tier above its competitors due to its array of notable features. Below, we've provided several reasons why this model is the ideal full-size car. Continue reading to find out why it may be in your best interest to opt for this specific car, and we'll follow that with details about why you should be making that purchase online. Then, when you begin shopping around at Chevy dealers in Louisville, you'll already know which model you want to pursue…
Reason #1: Performance
Power. Efficiency. These are usually the two main engine attributes customers are seeking as they're shopping around for their new ride. Fortunately, Chevy's unique offerings provide a combination of these two factors, thus providing owners with an ideal driving experience.
The ECOTEC 2.5-liter four-cylinder engine would presumably appeal to those seeking optimal efficiency, although the system also manages to deliver a respectable amount of power. Accompanied by a six-speed automatic transmission, the engine manages to crank out 191 pound-feet of torque and 197 horsepower, a pair of mighty impressive specs for this particular segment. Meanwhile, thanks to clever technologies like Variable Valve Timing and the auto start/stop function, drivers can capitalize on the impressive 30-mile-per-gallon highway fuel efficiency.
The 3.6-liter V6 engine predictably upgrades those performance specs, providing drivers with a hulking 305 horsepower and 264 pound-feet of torque. Despite all of this power, the unit still manages to deliver a respectable fuel efficiency at 28-miles-per-gallon on the highway. While the Impala is relatively pricey, drivers can save some extra money on fuel regardless of what engine they opt for.
Ultimately, as a consumer, you'd be hard-pressed to find these two attributes in a rival vehicle's engine. That's a big reason why the 2017 Impala blows the competition out of the water.
Reason #2: Technology
Who doesn't want to stay entertained during any commute or journey? Fortunately, the 2017 Chevy Impala includes an assortment of technological amenities that will prevent you and your passengers from succumbing to boredom. The major inclusion is the available Chevrolet MyLink touch-screen display, which provides easy access to an assortment of applications. Plus, thanks to the Apple CarPlay and Android Auto compatibility, drivers will also have the opportunity to easily connect their smartphone. This way, they can jam out to their favorite playlists, make phone calls, or send text messages without compromising safety.
Meanwhile, your passengers will surely appreciate the 4G LTE Wi-Fi system. If customers opt for this specific feature, they'll have easy access to a reliable wireless internet connection. With the ability to connect up to seven devices, your passengers will always be able to stay on the grid. Furthermore, if you're ever required to complete work, you won't have to go hunting around for a cafe or restaurant.
Finally, owners can constantly stay connected to their Impala thanks to the myChevrolet Mobile App. This technology, which is accessible via a smartphone, allows you to manipulate your vehicle from the comfort of your own house. Whether you want to start the engine, lock the doors, or even send directions to the navigation system, it's all possible with the myChevrolet Mobile Application.
Reason #3: Safety
We all want to remain safe when we're behind the wheel of a vehicle, and that's more than possible in the 2017 Impala. The vehicle's array of safety functions played a significant role in the vehicle earning a five-star overall vehicle safety score from the National Highway Traffic Safety Administration.
It starts with Chevy's array of available preventative safety functions, which are intended to keep drivers out of harm's way. The Forward Collision Alert will notify the driver when a crash may be impending, while the Lane Departure Warning and Side Blind Zone Alert will provide the operator with an extra set of eyes. Meanwhile, the Rear Cross Traffic Alert and rear vision camera will be particularly useful when you're backing out of a parking spot, as the system should help the driver avoid fender benders.
In the event of a crash, the 10 standard airbags should provide each occupant with the necessary amount of cushion. If help is needed, the OnStar Automatic Crash Response System can send emergency personnel to the site of the crash in no time.
Reason #4: Comfort
Besides the ability to drive around in style, consumers are also presumably looking to travel in optimal comfort. This will be particularly possible if you opt for any of the available interior amenities, which lead to one of the most enjoyable driving experiences in the entire class. The available seats aren't only comfy and luxurious, but they're also sporty, leading to the commute that these owners are surely seeking.
Now that you've determined that the 2017 Chevy Impala is indeed the ideal large car, it's time to initiate the buying process. Well, if you're looking to avoid the hassles that accompany the traditional car-buying route, then you should consider pursuing a vehicle via online.cars. This online seller provides a number of incentives for pursuing a product through them. Besides the obvious convenience factors, the seller also provides their customers with a number of monetary and protective incentives. Ultimately, customers will find that there are few advantages to pursuing a vehicle from a traditional dealership over an "online dealership."
So what are you waiting for? Go check out online.cars and see what it takes to get your hands on the ultimate full-size car: the 2017 Chevy Impala.