Wondering How We Deliver Your New Car?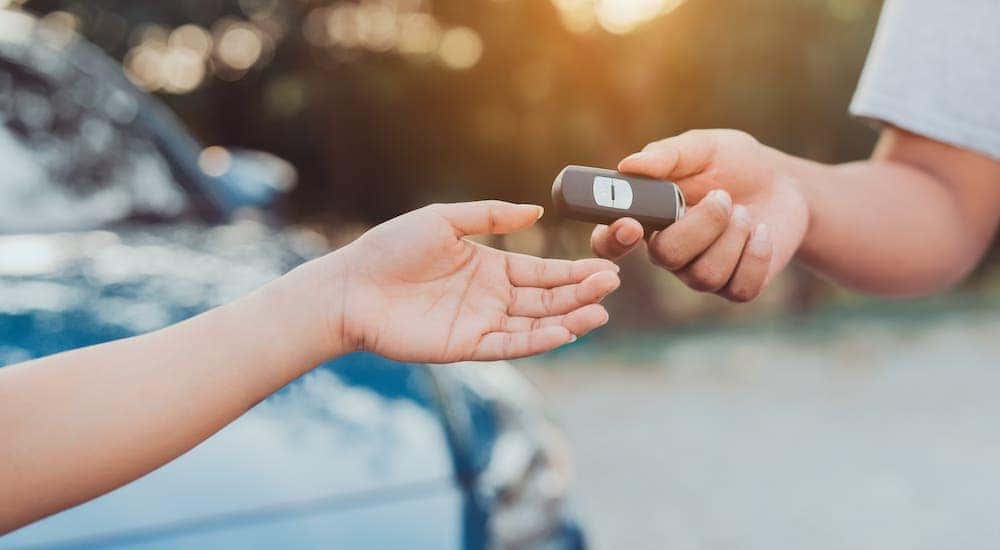 When ordering through an online car dealership, you might wonder how to get your new car delivered. This is a question we often hear, so we thought that we would take a moment to go over the process of having a car delivered. We know this is a relatively new idea. Having a new car delivered to your doorstep or even your office may even seem too good to be true. Is it really possible that you can avoid the hassle of the dealership and just have your new vehicle dropped off at your preferred location? It is, and it is even easier than it sounds.
That is the beauty of ordering from Online.cars because we take care of everything for you. Gone are the days of trudging through a dealer lot in the sweltering summer heat or wind-driven winter sleet. Now, you can do everything from the comfort of your home without having to worry about finding the time to make a trip to the dealership.
Plus, you do not have to worry about haggling with salespeople anymore. While some of us might like finding a great deal on our own, would it not be better to have someone else find the best deals for us? Shopping online is a revolutionary way of looking at buying cars, and the home delivery service is an added convenience. When you buy from Online.cars, we literally bring the car to you.
Buying from Online.cars
The process of purchasing a vehicle from us is easy. The entire procedure can be handled online or over the phone with one of our dedicated Vehicle Solution Specialists. That is right, despite this being an online business, you will still have a dedicated salesperson who will walk you through every step of the process.
Once you start the conversation with us online or over the phone, your dedicated salesperson will walk you through the entire buying or leasing process. They can answer any questions you might have about pricing or models. If you are wondering about the specific features of a particular vehicle, they will be happy to provide you with the answers you need. And if you are unsure what kind of car is right for you and your family, your dedicated salesperson can give you examples of which models might be best for you. Our sales process is just like walking into a dealership; only it can be done online.
The same is true for arranging financing as well, and we can help you find financing that is perfect for your situation. And all of this is done online or over the phone. So if you are concerned you will not find the best rate or the best loan option, rest assured that we have your best interests in mind just as if you were to come down to the dealership. Our expert finance team can answer any questions you might have about the loan process and will help you find a loan that makes sense for your budget.
Outside of a few legal forms and financial documents that you will sign when the vehicle is delivered, the entire process will be handled online or over the phone. This means you will be able to secure a great loan without having to leave your home or office. Once you have decided on a vehicle and secured financing, then you will be able to schedule delivery.
How Do I Schedule Delivery?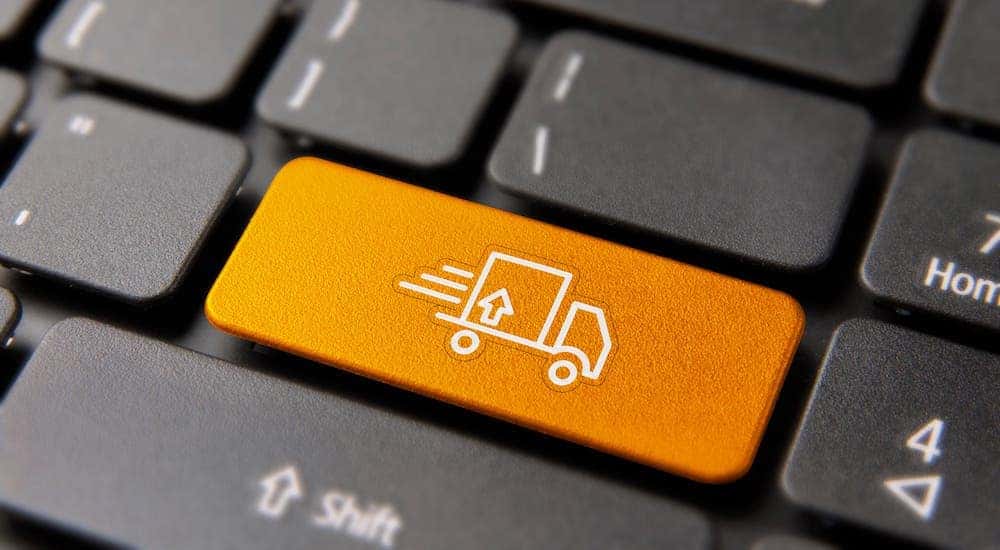 Scheduling the delivery of your new vehicle is as easy and as seamless as the buying process. Once you have finalized the purchase or lease of your vehicle, you will be contacted by our Logistics Manager to set up a delivery time. There is nothing more that you have to do on your end. When the Logistics Manager calls to schedule an appointment, you can decide if you want your new vehicle delivered to your place of work or directly to your home. We know how busy everyone is, so we offer this service to our customers as a convenience. It is not always easy to schedule a time when you will be home, and no one wants to spend a day waiting for a delivery, which is why we offer delivery to your place of work.
Another great thing about our delivery service is how quickly you will receive your new car. You will not have to wait around weeks or months for the vehicle to be delivered from across the country. Once you finalize your vehicle's purchase, deliveries can be scheduled within days, and you will be in your new car in no time. Depending on the delivery location, you will not have to wait long for your new car to arrive, generally only 24-48 hours after purchase.
If you are wondering about the cost of delivery, you will be happy to learn there is no delivery fee. That's right – you pay nothing for delivery! While you might have noticed that other delivery companies will often charge several hundred dollars for a delivery, we provide this service as complimentary for anyone who lives within a 150-mile radius of our Loveland Headquarters. And only a modest fee applies to those who live beyond this radius. Our goal is to make sure that your experience is memorable. We know that buying a car online is a new experience for most people, so we want to make sure that it is seamless and enjoyable. That is why we do not have any hidden fees or extra costs throughout the process.
Alternatives to Delivery
Of course, you are also allowed to pick up the vehicle for yourself. We have a world-class dealership and always love the opportunity to show it off. We enjoy meeting our customers and giving them a tour of our state-of-the-art facility. And as a token of our appreciation for using our service, we will even give you a $150 gift card to the world-famous Montgomery Inn Rib House. Located near our dealership, this is a perfect place to celebrate the online purchase of your new car.
Picking up your new car in person can also be a good idea if you are apprehensive about buying a car online. But no matter if you pick it up in person or have it delivered, buying from Online.cars will never leave you stuck with a vehicle that you do not enjoy. If it is not what you had expected and you would like to look at another model, or if you just are not happy with it, you can always return your vehicle within three days or 300 miles from delivery. And just like delivery, we will pick it up free of charge. This way, when you shop online, you do not have to worry about being stuck with a vehicle that is not right for you. So shop with confidence and know that Online.cars always has your best interests in mind.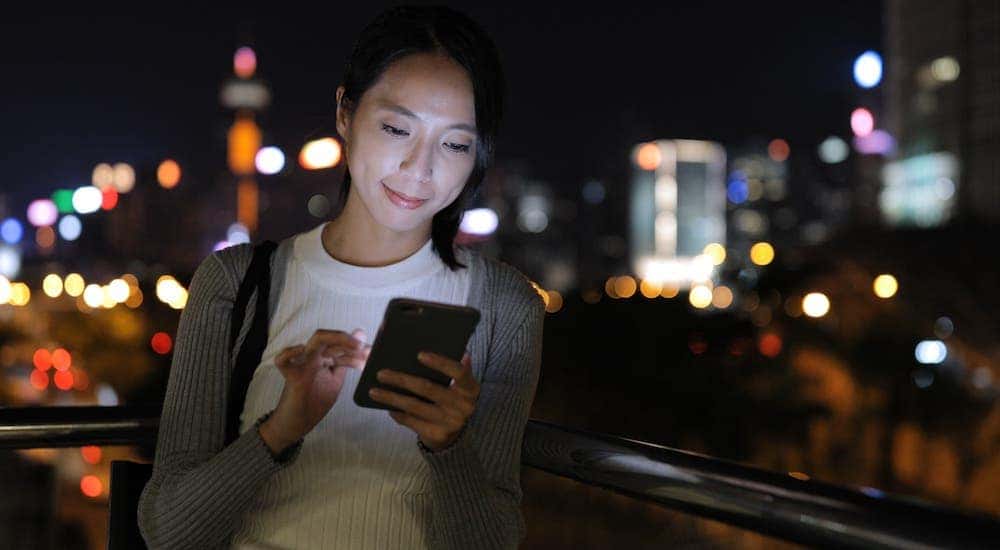 Start Shopping at Online.cars Today!
If you are wondering who we are, we are 100 percent owned and backed by McCluskey Chevrolet. McCluskey Chevrolet is the number one volume Chevrolet dealership in all of Ohio, Kentucky, and Indiana. It has been in business for over 90 years, so you know we are one of the good guys. Online.cars has delivered vehicles to satisfied customers in all 50 states and knows how to make this process as seamless and easy as possible. We are located in Loveland, Ohio, just north of Cincinnati. Check out our extensive inventory online and get the process started today – or give us a call and let us talk you through buying your next car online!